A LORETTO MAN WAS ARRESTED ON DRUG CHARGES TUESDAY FOLLOWING A TRAFFIC STOP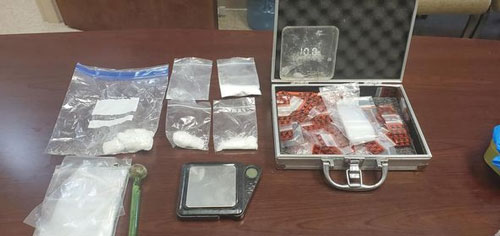 . ACCORDING TO REPORTS, A DEPUTY WITH THE LAWRENCE COUNTY SHERIFF'S OFFICE INITIATED THE STOP ON A 1987 FORD F150 FOR A REGISTRATION VIOLATION.
THE DRIVER, LATER IDENTIFIED AS SHANE FLATT, GAVE CONSENT TO SEARCH THE VEHICLE AND WHILE BEING PATTED DOWN FOR WEAPONS, A BAG WITH APPROXIMATELY 1 OUNCE OF METHAMPHETAMINE WAS LOCATED IN HIS WAISTBAND. FLATT WAS PLACED UNDER ARREST AND WHILE SPEAKING WITH DEPUTIES
ADVISED THERE WAS MORE METH AT HIS HOME. CONSENT WAS GIVEN TO RETRIEVE AND UPON ARRIVAL AT THE PROPERTY ON AUGUSTIN LANE,
AN ADDITIONAL HALF OUNCE OF METHAMPHETAMINE WAS RECOVERED ALONG WITH A POWDER FLATT ADMITTED WAS THE ACTIVE INGREDIENT FOR GABAPENTIN. IN ADDITION,
DRUG PARAPHERNALIA FOR THE USE OF RESELLING METHAMPHETAMINE WAS LOCATED. FLATT FACES CHARGES OF POSSESSION OF METH FOR RESALE, POSSESSION OF SCHEDULE V FOR RESALE, FELONY POSSESSION OF DRUG PARAPHERNALIA AND DRIVING WHILE IN POSSESSION OF METH.