American Pickers are coming back to Tennessee in June, and they are looking for "interesting characters with interesting items."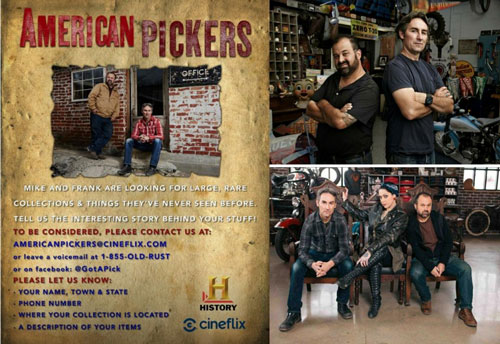 The American Pickers tv show which is aired on the History Channel is planning to come back to Tennessee in June where the exiting news was released through a media statement from the show which reads as follows:
"My name is Anthony Rodriguez and I work with the show American Pickers on the History Channel. I am reaching out because our show is currently planning on returning to Tennessee at the middle to end of June. We're looking for leads throughout the region, specifically interesting characters with interesting items and lots of them! We would love to spread the word in your area. The way we find people and collections for our show is through spreading the word far and wide so that people know we're coming to town.
We understand that with the proliferation of COVID-19, we are all facing very uncertain times and everything is changing daily. We at American Pickers are taking this pandemic very seriously and will be adjusting our schedule accordingly for the safety of those who appear on our show and our crew. However, we are excited to continue to reach the many collectors in your area to discuss their years of picking! If you feel it appropriate, we really hope you're able to help us let the people in your backyards know!"
Anyone that is interested in sharing their collection can reach American Pickers by calling 1-855-OLD-RUST (653-7878), or through email, at AmericanPickers@cineflix.com.
Also, please note that Mike and Frank only pick private collections so NO stores, malls, flea markets, museums, auctions, businesses or anything open to the public.