Williamson County Fire-Rescue responded to a vehicle fire that turned into a proposal after engagement ring survived heavy flames.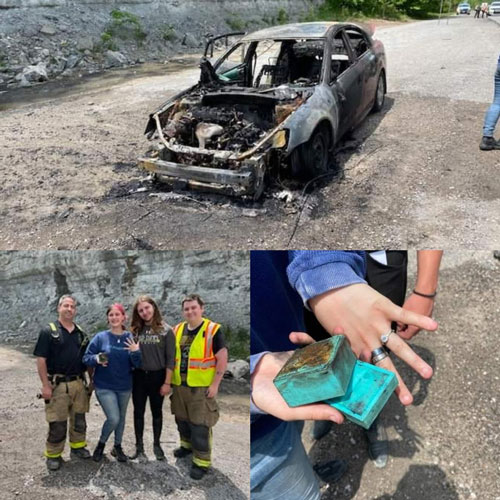 Williamson County Fire-Rescue released the following statement and photos on Monday:
"You never know when someone is in need of help, this afternoon WFR, Station 28 was dispatched to a vehicle fire. Engine 28 along with County Fire Captains responded.
Thanks to the Williamson County Sheriff's Office TN , they found the vehicle and contacted our Emergency Dispatchers who relayed the exact location of the vehicle.
Fire crews arrived to find the vehicle fully involved and made a quick stop. Upon salvage and overhaul of the vehicle, firefighters made an important SAVE.
The driver had recently purchased an engagement ring for his girlfriend. While almost all contents and the vehicle were destroyed, the ring box, containing this very important item was saved with no damage.
The driver made the decision to ask for his girlfriend's hand in marriage safely off the road and she said YES! Thanks to Volunteer WFR Fire Engineer's Terry Burress , Stephen Hopkins and Firefighter Mitchell Greenham for making this couple Monday afternoon a little more special!
We wish many years of Happiness to future Bride and Groom! If you would like to join our team of Life and Property savers, sign up today:
http://www.williamsonready.org/195/Volunteering"