Loretto Police Officers notice suspicious vehicles near storage facility that result in the seizure of narcotics, and a12 gauge shotgun.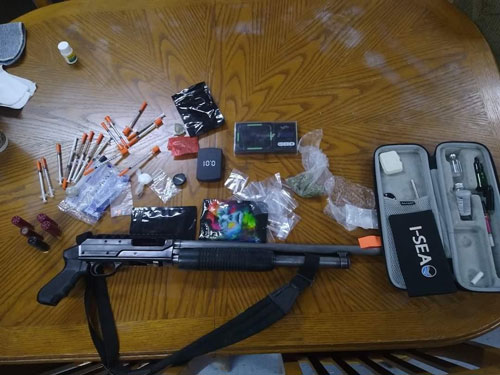 The Loretto Police Department released the following photo, and details regarding large bust:
"On March 12. 2021 Loretto officers noticed two vehicles at a local storage facility just off North Military Street in Loretto at 4:30 a.m. Officers checked the vehicles and found Seth Fowler, Talia Hensley, and Ben Jacobs.
While waiting on a warrants check on all three subjects, Seth Fowler was found to be in possession of 8.3 grams of methamphetamine and 6.8 grams of marijuana.
Talia Hensley and Ben Jacobs were found to be in possession of 4.8 grams of methamphetamine, 9 grams of marijuana, prescription drugs, and paraphernalia.
All three subjects were arrested and transported to the Lawrence County Jail. The two vehicles and a 12 gauge shotgun were seized due to the amount of drugs seized."
Photo Credit: Loretto Police Department.