Maury County Firefighters responded to a 2 story house fire where they confirmed that no victims were trapped inside the home.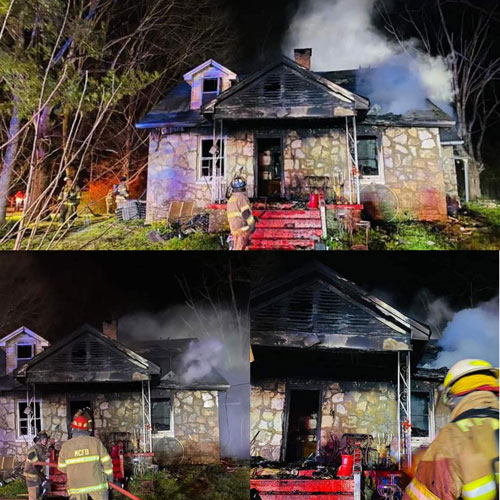 The Maury County Fire Department released the following information and photos:
"FOR IMMEDIATE RELEASE - HOUSE FIRE 3/31/22
At 7:54pm last night, units responded to reports of a residential structure fire in the area of Mccains Ln and Pulaski Hwy. Multiple units arrived on scene quickly to find a 2 story house heavily involved with fire.
Firefighters on scene were able to make entry inside the residence to make an aggressive attack on the fire / search for victims. While operating, crews were able to confirm there were no trapped victims inside and knock down fire on the first floor.
Conditions then began to deteriorate on the 2nd floor and crews exited the structure. Firefighters ventilated from the roof and re-coordinated a second fire attack to the 2nd floor of the residence.
Once crews ventilated the roof and simultaneously reentered the first floor to restart an interior attack of the fire, interior firefighters were able to make it to the 2nd floor using an interior stairwell. The fire was extinguished on the 2nd floor and a search of the 2nd floor was also completed.
Units worked tirelessly for hours ensuring the fire was out and the department is happy to report there were no injuries from any department members or civilians.
We appreciate the hard work of our volunteers and the support of this great community!
The Red Cross was also contacted for the resident whose home was involved in this incident."