Lawrenceburg/ Lawrence County Emergency Management shared details regarding EF2 tornado.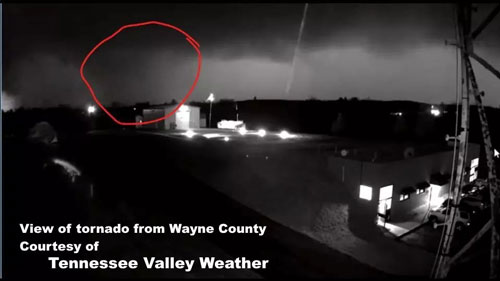 SEVERE STORM PROMPTS EMERGENCY RESPONSE IN LAWRENCE COUNTY
Lawrenceburg, TN: A line of severe storms that crossed Lawrence County on Thursday (3/25/2021) prompted an emergency response from several local agencies. The line was part of a widespread tornado outbreak that spawned an EF2 tornado in Wayne County. National Weather Service Nexrad and the newly installed Dopplar Radar at the Tennessee Valley Weather Channel followed the tornado as it entered Wayne County, touched down near Waynesboro and tracked into western Lewis County. Observations from trained spotters, law enforcement personnel, and volunteers from Lawrence County Fire and Rescue were reported to EMA which passed on the information to the weather service. This resulted in a Tornado Warning being issued for Lawrence County. There were several reports of a funnel shaped cloud, but ground surveys failed to turn up any evidence of an actual touchdown. Nevertheless, high winds affected nearly all of Lawrence County with isolated damage near Summertown, Richardson Acres, and downtown Lawrenceburg. No injuries were reported.
Lawrence County EMA monitored the widespread tornado and severe weather outbreak throughout the day and Skywarn Spotters were asked to deploy as severe storms approached the county. Personnel from city and county first responder and law enforcement agencies were placed on alert during an 11:00 am briefing at the Emergency Operations Center. Several local churches offered their basements to serve as storm shelters. Lawrenceburg / Lawrence County EMA Director Shelton Barnett thanked all of those who assisted and stood ready to respond if widespread damage had occurred in the county.
The EF2 tornado struck an electrical substation in Waynesboro creating a widespread power outage affecting Wayne and Lewis Counties.

Photo Caption: View of the tornado that touched down in Wayne and passed over northern Lawrence County viewed from the Wayne County EMS office.