"Coach Clark Hangs up the Whistle after 20 Seasons"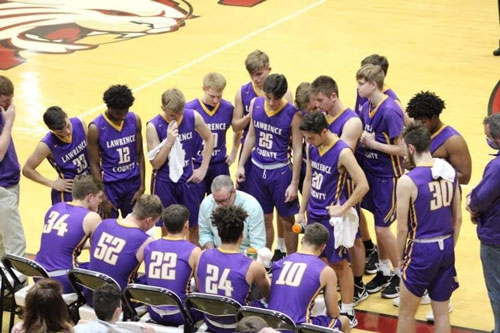 After twenty years at the helm of the Wildcat Basketball Program, Coach Shaen Clark announced his resignation Wednesday. Coach Clark will remain a member of the faculty and staff at LCHS.

Coach Shaen Clark has served our school and community in a manner that has been pleasing to all who are associated with Lawrence County High School. For the past twenty seasons, Coach Clark and his staff have led our young men into unchartered waters. With multiple district championships and regional appearances, along with three substate appearances, the players who have had the privilege of playing under Coach Clark will benefit for many years from his drive for success and the example he has shown of integrity and respect for all while representing Lawrence County and Lawrence County High School and the Wildcat family.
Coaching at this level demands a great deal of one's time and energy and an unspoken sacrifice. This was a tough decision for Coach Clark. Although we are saddened by his decision, we fully support him and are pleased that he will remain a member of the faculty. On behalf of our Director of Athletics Mr. Matt Calvert, the administrative team, the faculty, staff, and Athletic Department, former players, and supporters of the program, we extend our appreciation and wish him and his family continued success.

In Coach Clark's own words, he expressed, "After much thought & prayer, I have decided to step down as Boys Head Basketball Coach at our beloved Lawrence County High School. I would like to thank all the Lawrence County School Board Members, multiple Directors, and numerous LCHS Administrators & staff who have been so very supportive to me since returning home to LCHS in August 1997! Mr. Dunn, Coach Weathers, Mr. Butch Morrow & Our LCSS Board members gave a young coach a great opportunity! I've been extremely blessed to get to coach "purple collar" guys with unbelievably supportive Parents at a school in the greatest community imaginable!! Thank you Lawrence County & all of the lifelong friends I have gained!! My blood will ALWAYS run PURPLE and GOLD!! In the words of our beloved Daddy Mick, "WE ARE FAMILY!"


Coach Clark's coaching accomplishments: 26 years coaching HS; 22 as Varsity Head Coach (over 350 Wins); 20 seasons as Lawrence County Wildcats Head Coach (325 Wins, winning over 60% games, 17 Region Tournament appearances, 9 Region 4-AAA tournament Wins, 5 District Tournament Champions, 3 SubStates)

Photo Credit: LCHS Wildcats.