Early Monday morning local Swift Water Rescue Strike Teams were dispatched to reports of a motorist trapped in the water.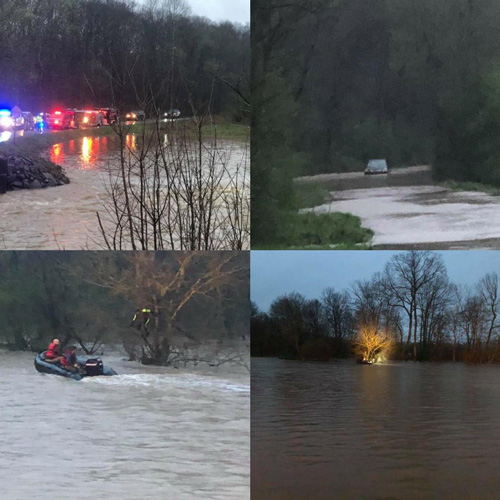 The Lawrence County Fire and Rescue along with Lawrenceburg Fire Department's joint Swift Water Rescue Team as well as Law Enforcement, EMA, and EMS were dispatched before daylight early Monday morning to Union Hill Road near Lambs Ferry Road with reports of a motorist trapped in the water.
The first units to arrive on scene were with the Center Point Fire Department who confirmed that a male victim had been swept away in the swift water conditions, and the victim was in the middle of the waterway holding onto a tree.
The boat teams with rescue swimmers were deployed from a nearby roadway where members of the Strike Team were able to successfully rescue the victim, and turn him over to EMS for medical care where the victim was transported to Southern Tennessee Regional ER for treatment of minor injuries.
The Lawrenceburg Fire Department spoke on the rescue by saying, "We are very pleased with the outcome of this incident. It is a true testimony to the success of a multi-agency water rescue strike team."
Photo Credit: Lawrenceburg Fire Department.