Lawrenceburg Police Department issues message as winter weather approaches.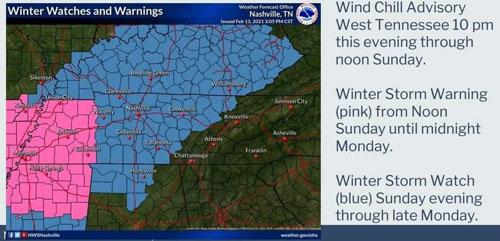 The Lawrenceburg Police Department issues the following message to residents:
"Stay safe! If you must travel over the next few days, take the necessary steps to be prepared.
Place an extra blanket, and a couple bottles of water in your car. Maybe, even a snack for the kiddos. As always, it is a good idea to keep your cell phone charged. You never know when you might become stranded due to the impending weather conditions.
According to the National Weather Service in Nashville, a significant winter storm looks definite for the Mid-state.
A Winter Storm Watch is out from 6 pm Sunday through 6 am Tuesday morning.
With heavy mixed precipitation it is possible for the accumulation of snow, sleet, and freezing rain. Travel could become very difficult on Monday and Tuesday."

Photo Credit: The National Weather Service.