Lawrenceburg Lawrence County Emergency Management

COVID-19 Vaccinations Proceeding on Schedule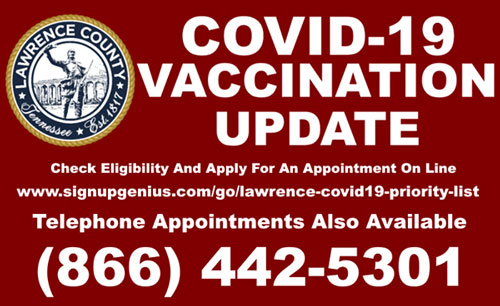 Lawrenceburg, TN: Hundreds of Lawrence County residents have received the Moderna COVID-19 vaccine with more to follow in the coming days. The Lawrence County Health Department is administering the vaccine by appointment at locations and times determined by vaccine availability.
Vaccinations are by appointment only and walk ins will be turned away. In order to keep waiting time for everyone as short as possible, residents are asked to arrive no sooner than a few minutes before their assigned appointment time.
As of Monday, February 1, Lawrence County residents 70 years of age and older plus those qualifying under phases 1a1 and 1a2 in the State Vaccination Plan are eligible to register. The vaccine is administered in two doses approximately four weeks apart.
First Dose Information:
Lawrence County residents wishing to receive the COVID-19 vaccine should enter their name on the First Dose Priority Waiting list which is available on line at:
https://www.signupgenius.com/.../lawrence-covid19....
After signing up, residents will receive a confirmation email and then will receive a separate email to set an appointment slot. Assistance with the on line process is available by phone at (866) 442-5301.
Second Dose Information:
Individuals who have received their first dose are already in the system and do not need to register again. They will be notified by telephone when their second dose is due and will be offered a choice of appointment slots at that time.