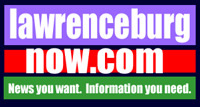 Thursday, January 10, 2008
Morrow Appointed To Utility Board
In the wake of the passing of Lawrenceburg Commissioner Buford Goolsby, members of the city's governing board have appointed Commissioner Butch Morrow to fill Goolsby's seat on the city's Utility Board.
Goolsby, who passed away on January 5, 2008, was the city commission's representative to the board that oversees the Lawrenceburg Utility Systems.
During the regular bi-monthly meeting of the Lawrenceburg Board of Mayor and Commissioners Thursday, Mayor Keith Durham nominated Morrow to fill the vacancy. The commissioners then agreed to the move. Durham indicated that Morrow would retain the seat throughout the duration of his current term.
The board observed a moment of silence in memory of Goolsby. In addition, Durham expressed the intent of the board to identity and appoint a commissioner to fill Goolsby's seat.
The utility board is slated to meet next at 11:30 a.m., January 17.
.
.