Columbia Firefighters battled house fire where visible flames were bursting from a window and roof.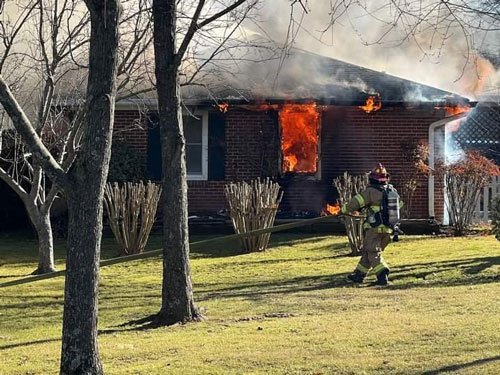 Columbia Fire and Rescue issued the following release and photo:
"FOR IMMEDIATE RELEASE:
At approximately 9:29am Columbia Fire & Rescue responded to a reported residential structure fire on Cheyenne Trail.
Crews arrived on scene to find smoke and flames emitting from one of the windows of the home. Fire crews were able to quickly and effectively extinguish the blaze without incident.
One patient was transported to Maury Regional Medical Center. The cause of this fire was ruled to be accidental due to open flame.
Open flame is a leading cause of residential structure fires in the State. Open flame is defined as any activity or device producing a flame including but not limited to candles, incense, butane/gas burners, fire pits, and grills.
A vast majority of these open flame fires are caused by burning candles. Please never leave anything with an open flame unattended! If you do decide to burn candles or incense in your home always ensure that they are placed at least 12 inches away from anything that can catch on fire!"