US National Weather Service Nashville Tennessee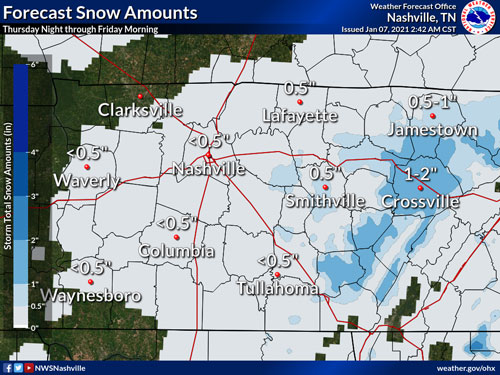 ·
Very little has changed in the forecast since we last spoke, although models continue to fight amongst themselves making it difficult to have a lot of confidence in the forecast.
Here is what we do know though:
- Showers will move in from the southwest throughout the day. Don't be shocked if you see a few flurries this AM in the northwest, but not expecting this to last long or be widespread.
- Showers will begin to transition to snow this evening into the overnight hours. Enter a forecast complexity, depending how cold it gets and how quickly the cold air arrives is key here. Cold air faster = more snow. Cold air slower = less snow.
- Highest snowfall accumulations will likely be along the Plateau (because aren't they always?). Right now we are thinking 1-2" along the Plateau with a dusting to the west of the Plateau. Again, this could change depending when the cold air gets here.
Still a lot of uncertainty thanks to model spread, so the forecast could change before tonight. Stay tuned!