Bolivar County Volunteer Fire Department in Cleveland, MS used specialized equipment to rescue a man trapped, and sinking like quicksand inside a grain bin of soybeans.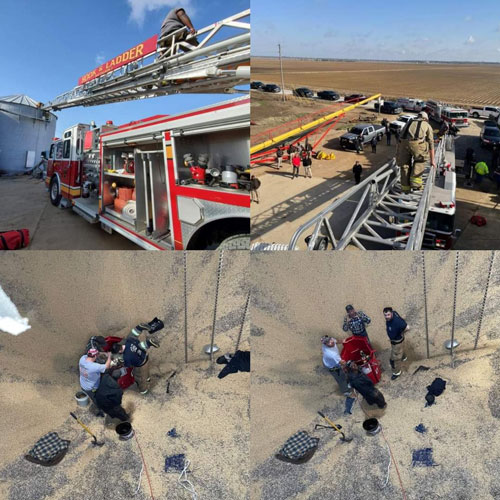 The Bolivar County Volunteer Fire Department issued the following information, and photos regarding recent rescue:
"Battalion One responded to a report of a man trapped inside a grain bin along Crosby Rd. this morning. Ladder 1, the grain bin rescue kit, Rescue 1, Squad 1, and Engine 151 responded with the specialized equipment and manpower needed to make the rescue.
Battalion Chief Jasen Norwood arrived on scene, scaled a service ladder on the side of the bin complex, and peered inside the bin to find a man buried to his chin in soybeans. The man had fallen from the top of the bin and landed 15-20 feet below the escape hatch and slid into the depression at the middle of the pile. Soybeans act like quicksand and the man quickly sunk deeply into the bin. As with quicksand, the more you move around, the more you sink in.
Chief Norwood and one of the trapped worker's colleagues urged him to stay calm and still as they descended a service ladder on the inside of the bin. Ladder 1 was used to pass equipment from ground-level - some 50' below - up to the top of the bin where it was then lowered down to the team working inside. They began by placing plastic trays on top of the beans to create a walkway to and around the trapped man such that they would not become trapped themselves and the surrounding beans would be less likely to pour downslope and completely bury the trapped man.
A specialized sleeve was then assembled to further protect and isolate then man from the surrounding pile. An auger system and scoops/shovels were then used to remove the beans from within the sleeve. The sleeve is slowly worked down as beans are evacuated. Firefighters Clay Cummins, Adam Cummins and retired Fire Chief Lee Tedder worked with the additional farm hand to gradually free the trapped man while crews outside readied additional equipment for the rescue under the supervision of Assistant Chief Shane Henderson.
After about 90 minutes of work, the man was freed and able to climb out of the bin and down Ladder 1 where Pafford EMS assumed care and checked him over. Miraculously, the man suffered no serious injuries and was not transported to the hospital.
The Board of Supervisors, supported by the good will and trust of our community, have authorized the spending of millions of dollars to support the purchase of specialized equipment, pay for advanced technical training, and otherwise support our all-volunteer fire department. This man would not have survived today without such support and we are glad for it and the opportunity to serve our community."