Chaos erupted after protesters swarmed the Capitol Building in Washington, DC resulting in one woman being fatally shot.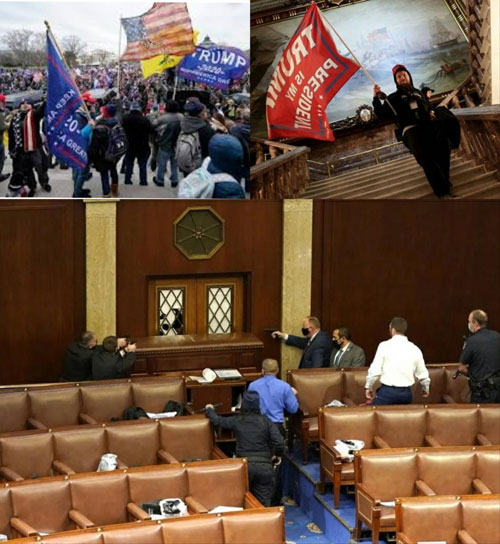 On Wednesday President Donald Trump addressed his supporters at the National Mall in Washington D.C. where following his speech large crowds who where protesting the election results made their way to the Capitol Building where the certification of Electoral College votes was taking place inside.
After swarms of protesters surrounded the building
U.S. Capitol Police ordered a lock down around 2:30 p.m. along with evacuations of two Capitol campus buildings the Library of Congress James Madison Memorial Building and the Cannon House Office Building.
As protesters made their way inside the Capitol Building reports indicate that a woman was shot then taken to a hospital where she was later pronounced dead.
At this time no further details have been released regarding what exactly led to the shooting where photos from inside the House Chamber show law enforcement locked down with guns drawn.
By Wednesday afternoon Washington, D.C., National Guard had been mobilized to support local law enforcement who were positioned outside the Capitol in riot gear where tear gas along with percussion grenades were used to disperse rioters who broke in through smashed windows, and climbed the building's balconies.
DC's Mayor Muriel Bowser announced a curfew from 6:00 p.m. on Wednesday till 6:00 a.m. Thursday for people inside Washington's jurisdiction due to the rioting.
President Donald Trump issued the following statement to protesters on his Twitter account:
"I am asking for everyone at the U.S. Capitol to remain peaceful. No violence! Remember, WE are the Party of Law & Order – respect the Law and our great men and women in Blue. Thank you!"

Photo Credit: CBS News' Zak Hudak, Washington Post, getty images.