Maury County First Responders rescue Mt Pleasant man from icy waters after Monday morning wreck.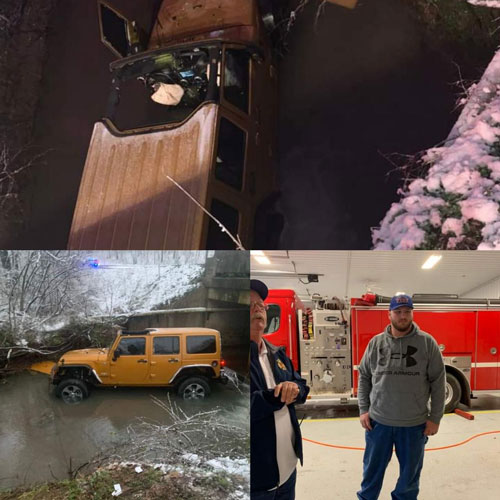 According to reports on Monday morning around 5:30 a.m. a Jeep was traveling near Enterprise Road and Golf Club Road when the vehicle went off the roadway and crashed into a icey creek.
The 32 year old driver contacts emergency services while the Jeep is upright, and icy water is rushing over the tires.
Colton McPeak is one of many Maury County first responders who responded to the call, and with Maury County Fire Fighters being volunteers, McPeak had to use his own personal vehicle on the icy, dark roads just to get to the call.
Upon arrival McPeak joins Maury County EMS, members of the Sheriff's Office and the Mt. Pleasant F.D where the driver was inside the vehicle in the icy waters complaining of a injured ankle.
McPeak while wearing his turnout gear safely rescues the driver from the icy creek in knee high water, and thankfully the victim's injuries were report as being not life threatening.
At this time the wreck is still under investigation by the Tennessee Highway Patrol.
Photo Credit: WKRN, Andy Cordan.