Sunday, November 11, 2018
Rotary district Governor visits Lawrenceburg Rotary Club
The Lawrenceburg Rotary Club welcomed Rotary International District Governor Laquita Stribling to it's Friday, November 9, 2018 weekly meeting. Governor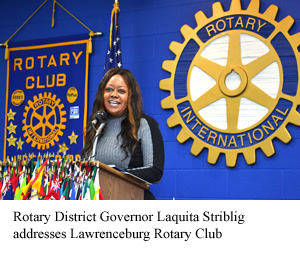 Stribling gave an inspiring presentation on how embracing diversity and inclusion is important for the long term growth of Rotary.
She also discussed the status of Rotary's quest to eliminate polio. During the meeting, Governor Stribling recognized Rotarians Tad Keaton, Bill Caudle, and Paul Wayne for their contributions to Rotary's charitable arm, The Rotary Foundation.
Governor Stribling is a member of the Nashville Rotary Club and is serving as District Governor for Rotary District 6760. District 6760 includes 62 Rotary Clubs located in the western half of Tennessee.
The Lawrenceburg Rotary Club sponsors the award winning Middle Tennessee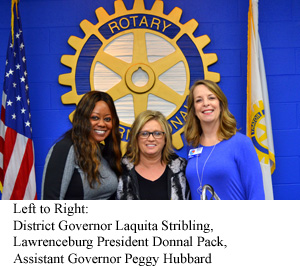 District Fair and is part of Rotary International which has over 1.2 Million members in over 200 countries and regions worldwide.