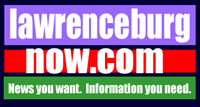 Monday, July 6, 2009
Commercial Traffic Not Allowed On Springer Road
Lawrenceburg Police Chief Judy Moore says that commercial traffic along a busy Lawrenceburg roadway is getting out of hand and requests that commercial drivers avoid that area.
Moore says that her department has received numerous complaints regarding commercial traffic along Springer Road. As is the case in several roadways within the city, commercial traffic is expressly forbidden along Springer Road. The only time commercial traffic is allowed is when deliveries are being made or services are being performed in the area. "In all cases," Moore says, "the commercial vehicle must travel the state highways as much as possible."
Moore explains, "We wish to inform the public that we are monitoring this area, as well as other areas where commercial traffic is forbidden, and will be issuing citations to violators." In addition, she requests that "all local companies with such vehicles please follow these regulations in assisting us with controlling this problem…We also welcome citizens informaning us about violations."
Moore points out that the prohibition does not apply to city-owned vehicles such as dump trucks, road equipment and street sweepers.
.