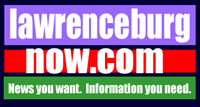 Friday, June 27, 2008
Residents May Soon Drive Golf Carts On City Streets
Members of the Lawrenceburg City Commission are delving into allowing citizens to drive golf carts on city streets in order to conserve fuel.
Lawrenceburg Commissioner Robin Williams discussed the matter during a meeting of the Lawrenceburg Board of Mayor and Commissioners Thursday.
Williams indicated he has been checking into the matter, going so far as to contact 70th District State Representative Dr. Joey Hensley about the legitimacy of approving such a measure. According to Williams he has discovered that, in order to make the golf carts street-worthy, residents would be required to make several modifications. A windshield would have to be added to the golf carts as well as headlights, taillights, turn signals, and front and rear bumpers.
With gas prices rising weekly, and sometimes daily, Williams encouraged the board to continue checking into "what we have to adopt to make it legal."
Williams expressed his intent to continue to investigate the matter.
.
.