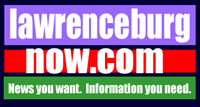 Monday, June 1, 2009
Garage Door Vandalized While Residents Sleep
Two residents of a West Laurel Drive home reported to authorities they were awakened by the sound of their garage door being vandalized overnight Friday.
The victim reported the incident through the Lawrence County Sheriff's Department Saturday morning. She stated that she had been awakened by a loud noise that sounded as if, "someone was taking down the house."
The victim indicated that her son had gone outside to investigate when he heard the sound of a car door shutting and "some kids yelling."
When they went out Saturday morning, the victims discovered their garage door had sustained several dents. Damages to the door were estimated at $100.
The son was unable to provide officials with descriptions of either the vehicle or the individuals responsible for the damage.
The case remains under investigation at the present time through the department's Criminal Investigation Division.