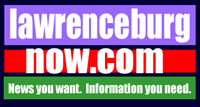 Authorities report a tornado touched down in southern Lawrence County Thursday afternoon, leaving an approximate three-mile path of damage.
The tornado touched down just after 12:30 p.m., on the western border of Loretto. The greatest amount of damage was reported in the Thornton/Clax Branch Road area.
Officials report that three homes sustained damage in the storm, and that one barn was completely destroyed. Trees and power lines were toppled by the twister, however overall officials report that damages were not too extensive.
There were no deaths or injuries reported as a result of the storm.
.
.
Friday, May 9, 2008
Thursday Storm Leaves Path Of Damage In South Lawrence