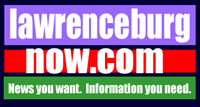 Wednesday, April 28, 2010
Commissioner Jackson To Support Lower Property Tax Rate

Submitted by Commissioner Jackson
"Over the past few days, I have had a number of my constituents contact me regarding their updated property assessments sent down from the state.
From my conversations with them a few things are clear: the increased assessments are too high, unwarranted and come at the worst time possible.

Right now our people are struggling just to get by. The economy is in its worst shape in decades and many of our citizens find themselves without a reliable source of income.
Not to mention the cost of living continues to go up daily. Put simply, at the end of the day Lawrence Countians literally cannot afford to be burdened by any more tax increases or rate increases by the government.
Especially a property tax increase, which is the most unfair form of taxation as it puts the entire tax burden on the backs of a small percentage of our citizens.

Lawrence Countians do not need or deserve an increase in their property taxes. Instead, they deserve tax relief.

That is why I intend to support the certified tax rate which will lower the property tax rate back down to approximately $ 2.72 and let our people keep more of their hard earned money. I will urge my colleagues to do the same."

Free JavaScripts provided
by The JavaScript Source
.
---
---