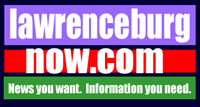 Monday, April 26, 2010
Suspicious Pill Found In Courtroom
Court officials were somewhat surprised during a session last week to find an unidentified pill lying on the floor in a Lawrence County Courtroom.
The discovery was made by two attorneys who were working in circuit court that day. They quickly notified sheriff's deputies responsible for courtroom security that they had found a pill that had apparently been dropped onto the floor.
The pill, square and blue with an "A" imprinted upon it, was secured by a deputy and taken into evidence. Court hearings then proceeded as normal.
Free JavaScripts provided
by The JavaScript Source
.