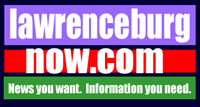 Thursday, April 16, 2009
District Attorney Warns Of Fraud
Lawrence County District Attorney Mike Bottoms has issued an alert in the hopes of preventing area residents from falling victim to yet another fraud plot.
In a press release issued Tuesday Bottoms indicates that at least one Lawrence County resident has already been targeted in the scam.
As in so many other incidents, under this latest scam the targeted individual is forwarded a letter via email, informing him that funds are being held for him in a bank in Nigeria. The sender claims to represent the Federal Bureau of Investigation, stating that the recipient is believed to present a threat. The recipient is threatened with fines and arrest, should he not provide personal information to prove that he is not a terrorist.
Bottoms warns, "Do not be fooled – this is a scam to obtain personal information for monetary purposes." He recommends that recipients use common sense, never giving out personal information under such circumstances. "If you are notified that millions of dollars from international banks are being held for you, and personal information is requested such as your Social Security or credit card number," he says, "This is a scam! Do not give out personal information to any stranger!"
Anyone who has questions regarding the scam or who might have been victimized is encouraged to contact Bottoms at 762-7777.