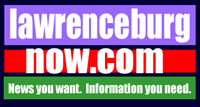 Tuesday, April 14, 2009
Authorities Investigate Shots Fired Claim
Local law enforcement officials were summoned to initiate an investigation Monday afternoon after a resident of the Leoma area reported someone had been firing upon him from a vehicle.
Deputies with the Lawrence County Sheriff's Department made their way to the Fullers Chapel Road residence shortly before 4:00 p.m. where they spoke with the twenty-nine-year-old victim.
The victim reported that a resident of Sanders Lane had fired three shots while inside his vehicle, in the roadway in front of his home. He stated that the shots had been fired directly at him.
Deputies did speak with one witness who was able to corroborate the victim's statement. The matter has now been turned over for more in-depth investigation by detectives with the department's Criminal Investigation Division.
.
.