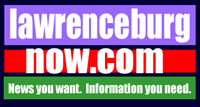 Tuesday, March 25, 2008
Authorities Say Overflow Caused No Problems
Vic Pusser with Lawrenceburg Utility Systems said this week that an overflow at a city water tank during the Easter holiday resulted in no problems.
Citizens who reside at the base of the twin water tanks situated near the industrial park end of Mahr Avenue might have become somewhat concerned when water began to pour forth from the top of one of the tanks late Sunday afternoon, however it appears there was no cause for concern.
"We were running a short shift because of the Easter holiday," Pusser explained, "We were trying to hurry up and top off the tanks quicker than normal and it caused a little overflow."
Pusser indicated that workers did not realize the tanks had reached capacity, and the water began to overflow before the pumps could be disengaged. Although the sight is an unusual one, Pusser said, "This happens a couple of times a year and this just happened to be one of them."
The system has safety measures in place for just such an occasion. A drainage pipe funnels overflow water from the base of the tanks, along Mahr Avenue and onto Thomas Street where the water is directed into a drainage basin.
.
.