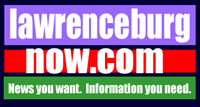 Thursday, March 12, 2009
Community Stunned By Sudden Death Of Street Department Superintendent
The community was shocked to learn Wednesday morning that Lawrenceburg Street Department Superintendent Mike Weathers had perished overnight.
Weathers, age 50, has been employed by the City of Lawrenceburg since 1988, and served most recently as Streets Department Manager.
Officials indicate that coworkers became concerned when Weathers failed to arrive for work Wednesday morning and could not be reached via telephone. They went to check on him and reportedly found him lying in his bed. Authorities indicate he died as the result of an apparent heart attack.
Weathers is survived by daughter McKenzi Weathers, brother Jonathan Weathers, and sisters Donna Weathers, Melissa Weathers, and Brandi Burdette, all of Lawrenceburg, half-sister Pam Saucerman of Indianapolis, Indiana, and special friend Angela Mangrum and son Matt of Leoma.
.
.