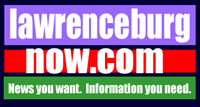 Thursday, January 3, 2007
Source Of Fire Under Investigation
Authorities are continuing work to determine the source of a fire that damaged a Lawrenceburg home overnight Wednesday.
Emergency personnel responded to the 2:06 a.m. call to the 437 Second Street home of Sunye Norwood.
Reports indicate that Lawrenceburg Police Officers were the first on the scene. They spoke with two individuals near the street who were uncertain whether Norwood was inside the burning house. The reporting officer indicates that he used his baton to beat on the windows in an effort to alert anyone inside that the home had caught fire.
Members of the Lawrenceburg Fire Department quickly arrived on the scene and checked the interior, determining that no one was inside. They were then able to extinguish the flames.
Investigation into the source of the fire is continuing.
.
.