The Lawrenceburg Community Theatre Youth Chorale Will present a "Salute to Our Veterans" on Sunday, November 10, 2019 at 2:00 pm at the Old Crockett Theatre. This is a free musical event to honor all our Veterans and their families.

The Youth Chorale was established in August, 2019 to provide performance opportunities to students in Lawrence and surrounding counties.
| | |
| --- | --- |
| Name | Merry Gabel |
| E-mail | stjoemerry@gmail.com |
| Message | Swamp John's at St. Joseph Senior Center (119 S. Main) Friday, Nov. 1, from 4 to 7 p.m. Cost is $12 including dessert and drink. Call 845-4194 for more info. |
| | |
| --- | --- |
| Name | Merry Gabel |
| E-mail | stjoemerry@gmail.com |
| Message | Yard & Bake Sale at St. Joseph Senior Center (119 S. Main St.) on Saturday, Oct. 26 from 7:00 am to 12 noon. Rain or Shine. |
| | |
| --- | --- |
| Name | Tressy E Hart |
| E-mail | lawco.bpw@gmail.com |
| Message | The regular business meeting of the Lawrence County BPW will be held Tuesday, October 15th at 6 pm at 4 Seasons Bakery and Cafe located at 2150 Springer Road. Our guest speaker will be Melissa Voss on the subject of Aquaponics. All are welcome |
---
Law Co Goes Red for Red Ribbon Week
by Jenny Golden
LCSAP Coalition Director
Addiction, also known as Substance Use Disorder, causes untimely death, strains relationships, and hurts communities.
Red Ribbon Week is a national drug prevention initiative held October 23-31. The Lawrence County Substance Abuse Prevention Coalition (LCSAP) is proud to support this initiative and encourages the whole community to raise awareness and encourage prevention of substance use disorders by going red during Red Ribbon Week!
This year's Red Ribbon Week campaign, "Send a Message. Stay Drug Free," aligns with LCSAP's drug awareness and prevention mission in our community. Therefore, we are hosting two awareness activities and asking you to get involved!
One activity is "Law Co Goes Red." We are asking all Lawrence County businesses and residents to "Go Red" by displaying red lights during Red Ribbon Week.
The other activity is a Red Ribbon Week art contest for Lawrence County students in K-12th grade. All messages will be made into a collage and the winner of the contest will have their art displayed on a local billboard!
As a business owner, how can I show my support?
All businesses are being asked to change their building lighting, such as uplights and lampposts, to red lighting.
As a homeowner, how can I show my support?
Change your uplights, lampposts, and front door lights to red bulbs or wrap red string lights where possible.
Where can I get red lights?
The Lawrence County Substance Abuse Prevention Coalition has a limited supply of red light bulbs. To reserve your bulb (while supplies last), contact Trea at 931-766-4175 or stop by the County Executive's Office (8 a.m.- 4:30 p.m., Monday-Friday).
Industrial LED lighting located at 319 Geri Street in Lawrenceburg will have a supply of red light bulbs available for you to purchase at a discounted rate as well.
Help us spread this message by taking a picture of yourself standing under your red light and post on social media. Add #GoRed4RedRibbon and tag @LCSACoalition (Facebook) or @lawco_sac (Instagram) so everyone can see your support!
Sending pictures to LCSACoalition@gmail.com is also great way for us to see your support.
How can the youth in my life participate in the Art Contest?
What: Art Contest (Winner will have artwork made into a billboard.)
When: Artwork is due by October 31
Judging will be done November 1st
Why: Red Ribbon Week's Theme is "Send A Message: Stay Drug Free".
We want to give the youth of Lawrence County a voice to encourage their peers and our citizens to stay drug free. A collage of all messages will be made as well.
If your student is not participating through their school, but would like to submit their artwork, contact Trea at 931-766-4175.
For more information regarding Red Ribbon Week, please visit redribbon.org.
About Red Ribbon Week:
Since its beginning in 1985, the Red Ribbon has touched the lives of millions of people around the world. In response to the murder of DEA Agent Enrique Camarena, angered parents and youth in communities across the country began wearing Red Ribbons as a symbol of their commitment to raise awareness of the killing and destruction cause by drugs in America. In 1988, National Family Partnership sponsored the first National Red Ribbon Celebration. Today, the Red Ribbon serves as a catalyst to mobilize communities to educate youth and encourage participation in drug prevention activities.
About LCSAP:
The Mission of the Lawrence County Substance Abuse Prevention Coalition is to be a community coalition that creates positive cultural change to reduce substance use disorders among youth and adults in Lawrence County. We are funded under a grant contract with the Tennessee Department of Mental Health and Substance Abuse Services and a Drug Free Communities grant through the White House Office of National Drug Control Policy. The fiscal agent of LCSAP is the Lawrence County Government. Staff works closely with community members from 12 sectors (Youth, Parents, Business, Media, Schools, Youth-serving organizations, Law Enforcement, Civic/Volunteer groups, Healthcare, State/Local Government, Other Substance Abuse Services and Faith Based Organizations. By working together, we get a "big picture" view of the social landscape where substance use disorders exist and leverage resources to address these issues. Our vision is to have a Safe, Healthy and Drug Free Lawrence County.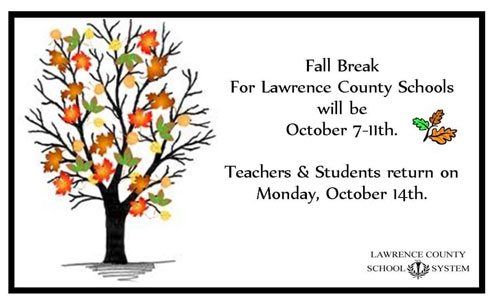 | | |
| --- | --- |
| Name | Terry Mackin |
| E-mail | coppermackin@lorettotel.net |
| Message | Fall River Community Club Turkey Shoot Sat. Oct.19 10 am- 3 pm |
---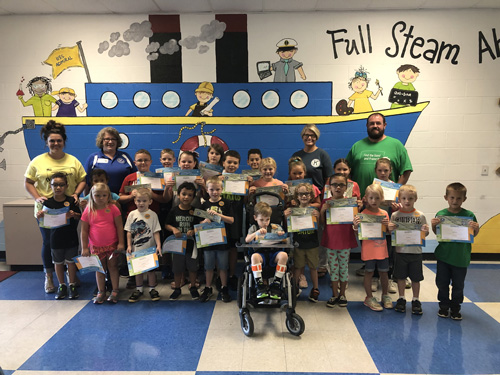 Kiwanis Terrific Kids at Ingram Sowell Elementary for September 13 are: Colton Thompson (PreK), Kaliyah Pettigrew (PreK), Zeth Wright (PreK), Canon Bennett (Kindergarten), Makenzie Olmstead (Kindergarten), Ella McMahan (Kindergarten), Jace Walker (Kindergarten), Kyler Thompson (1st Grade), Breanna Jones (1st Grade), Isaac Aranda (1st Grade), Lance Brewer (2nd Grade), Rease Russ (2nd Grade), Ciana Myles (2nd Grade), Lily Clayton (3rd Grade), Michaela Heflin (3rd Grade), Gwendolyn Hills (3rd Grade), Jazz Bentley (4th Grade), Sam Hubbard (4th Grade), Haylee Coffman (4th Grade), Ivan Delgado (5th Grade), Mackenzie Wright (5th Grade), Tate Curtis (Sped), and Trenton Thompson (Sped)
---
---
The Lawrenceburg community Theatre announces auditions for a Chorale for ages 10-15. Students who wish to audition will need to have a musical selection prepared to sing. A CD player will be provided or students may sing a Capella. Fall performances are planned for The Middle Tennessee district fair, Veteran's Day, and a Christmas concert. Auditions will be Tuesday, July 23 and July 30 from 5-7 p.m.at Cumberland Presbyterian church ( off the square on S. Military.) If selected, students will receive instruction in stage etiquette, simple voice training, and the opportunity to perform on stage with the group. Students and parents must agree to a list of guidelines, and there is a performance fee of $50 for the chorale which will cover the school year. Rehearsals will be held on Tuesday afternoons. The chorale is open to students from Lawrence and surrounding counties. Students must turn 10 before December 31, 2019 and must no turn 16 before December 31, 2019. The chorale is under the direction of Kaye Luffman, David DuBose, and Cheryl Augustin. For more information call 931-201-0940.
---
Ben Boston Has Been Nominated and Accepted as a 2019 AIOPIA'S 10 Best in Tennessee For Client Satisfaction
The American Institute of Personal Injury Attorneys has recognized the exceptional performance of Tennessee's Personal Injury Attorney Ben Boston as 2019 10 Best Personal Injury Attorneys for Client Satisfaction.
The American Institute of Personal Injury Attorneys is a third-party attorney rating organization that publishes an annual list of the Top 10 Personal Injury attorneys in each state. Attorneys who are selected to the "10 Best" list must pass AIOPIA's rigorous selection process, which is based on client and/or peer nominations, thorough research, and AIOPIA's independent evaluation. AIOPIA's annual list was created to be used as a resource for clients during the attorney selection process.
One of the most significant aspects of the selection process involves attorneys' relationships and reputation among his or her clients. As clients should be an attorney's top priority, AIOPIA places the utmost emphasis on selecting lawyers who have achieved significant success in the field of Personal Injury law without sacrificing the service and support they provide. Selection criteria therefore focus on attorneys who demonstrate the highest standards of Client Satisfaction.
We congratulate Ben Boston on this achievement and we are honored to have him as a 2019 AIOPIA Member.
.