GOVERNOR LEE, COMMISSIONER ROLFE ANNOUNCE OLD SOUTH WOOD PRESERVING, LLC TO ESTABLISH OPERATIONS IN LAWRENCE COUNTY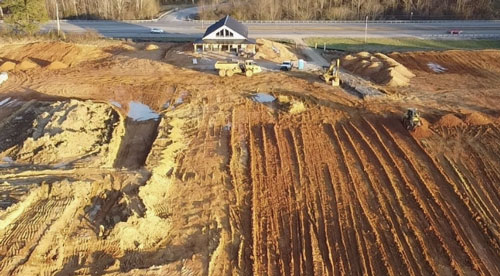 Lumber treatment company to invest more than $5 million in startup facility
Project represents the creation of 35 new jobs in Summertown
NASHVILLE, Tenn. – Tennessee Gov. Bill Lee, Department of Economic and Community Development Commissioner Bob Rolfe and Old South Wood Preserving, LLC officials announced today the company will establish operations in Lawrence County.
Old South Wood will invest more than $5 million and create 35 new jobs as the company locates a lumber treatment facility in Summertown.
Located at 4907 Highway 43 North, Old South Wood's operations will comprise of an office, lumber barns for wood storage and a treatment plant. As part of the treatment process, southern yellow pine lumber will be placed in airtight cylinders to be flooded and pressurized with water and chemical concentrate. The lumber will then be vacuumed and stored until completely dry for shipment to the company's retailers.
In the last five years, TNECD has supported nearly 60 economic development projects in Southern Middle Tennessee resulting in roughly 7,600 job commitments and $4.8 billion in capital investment.
QUOTES
"Congratulations to Old South Wood for choosing to establish operations in Lawrence County. This company shares our vision and commitment to rural communities, and we're proud to welcome them to Summertown." – Gov. Bill Lee
"Old South Wood's decision to establish operations in Summertown will not only enhance our state's business-friendly climate, but also strengthen the quality of life in Lawrence County. We thank the company for its commitment and for investing in Tennessee." – TNECD Commissioner Bob Rolfe
"Old South Wood is excited to be making our home here in Middle Tennessee. The support that we've received from the local government and community has been outstanding. Our team is looking forward to serving Tennessee and its surrounding states with quality pressure treated forest products while also bringing in new jobs and growing to meet the demands of the expanding construction industry here in Middle Tennessee." – Eric Stoll, owner and CEO, Old South Wood Preserving, LLC
"TVA and Mount Pleasant Power System congratulate Old Wood South on its decision to establish operations and create new job opportunities in Lawrence County. We are proud to partner with Lawrence County Chamber of Commerce, Tennessee Department of Economic and Community Development and Middle Tennessee Industrial Development Association to help support existing industries, like Old South Wood, continue its commitment to growth in the Valley and celebrate this announcement." – John Bradley, TVA senior vice president of Economic Development
"I am very pleased Old South Wood has chosen to open their new business in Lawrence County. I wish this company the best as they begin their operations and provide jobs to our citizens and boost our local economy. Thank you to the state and local officials who worked to help add this new business in our community." – Sen. Joey Hensley (R-Hohenwald)
"I am thankful for the investment in our community by Old South Wood, which will provide even more job opportunities for residents of Summertown and Lawrence County. I look forward to their continued success and want to thank our local and state economic development leaders for making announcements like this possible." – Rep. David Byrd (R-Waynesboro)