AUCTIONS
APPLIANCE REPAIR
Kelly Appliance & Vacuum 931-244-7200
AIR CONDITIONING
D.E. Hill & Son 762-9584
ASSISTED LIVING
AUTO REPAIR


J & G Tire Center 931-762-0078
BANKS
CONSIGNMENT
On Second Thought Consignment 931-244-7244
CINEMAS
CLINICS
Clothing
On Second Thought Consignment 931-244-7244
COMPUTER REPAIR
DAY SPA
Envy Tanning & Spa 931-762-3689

ELECTRICAL & PLUMBING
Rick's Electrical & Plumbing 931-242-5325
ELECTRONICS
Lynn Electronics 762-0401
EXCAVATING / GRADING
Newton Backhoe Service 931-242-0305
FLORIST

Lawrenceburg Florist 762-3722
McKelvey's Flowers 762-4511

FUNERAL HOMES

Pettus-Turnbo Funeral Home 762-3291
FURNITURE
Green's Furniture
Swap & Shop Center
GIFTS
GLASS REPAIR
Lawrenceburg Glass 766-1004
HARDWARE
HEALTH PRODUCTS
Salt Glow 931-279-4780
HOBBY
Adventure Off Road 852-5445
INSURANCE
Aarons Insurance 931-629-8065
Baker Agency 762-4550
Wall-Modrall Insurance 762-6528
JEWELRY
Dixon's Fine Jewelry 762-9979
LAWN CARE


Dustin's Lawn Care 242-4414
MEDICAL
NATURAL FOODSNature's Nuggests 762-2895
OUTDOOR
Randy's Cycle & ATV 762-2450
PARTY / SUPPLIES
PAWN
Mo's Pawn Shop 762-2529
PHARMACY
Holland's Pharmacy 931-762-2220
POOLS/ SUPPLIES
By Pass Pools 931-762-7904

REAL ESTATE
RENTAL
RESTAURANTS
SPORTING GOODS
Fox Sporting Goods 931-766-0313
STORAGE
Loretto Storage 931-853-7867

TANNING
Envy Tanning & Spa
931-762-3689
TIRES
Groucho's Tires 931-762-1707
TRAVEL
Saturday, November 25, 2017
Ethridge building one of eight structures recently named to the National Register of Historic Places
A press release from the Tennessee Historical Commission has announced that the former Farmers and Merchants Bank in Ethridge is one of eight structures in the state recently named to the National Register of Historic Places.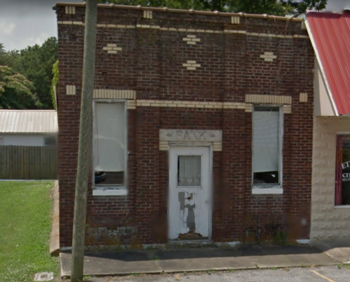 "The latest National Register of Historic Places listing reflect Tennessee's unique heritage and honor a diverse group of places worthy of being recognized and appreciated," said Executive Director and State Historic Preservation Officer Patrick McIntyre.
The press release goes on to describe the building:"
The one-story brick building in the heart of Ethridge was built in 1927 after an earlier bank building burned. Many banks in the early 20th century were designed in the Classical Revival style, which was thought to convey security and stability to a community.
The restrained detailing, seen in the brick and stone window details on the façade of the Ethridge bank, copies the more elaborate Classical Revival style seen in larger communities. When the current building was constructed, the economy of Ethridge was based on agriculture.
The Farmers and Merchants Bank provided financing and capital for expanding businesses and farms. After the bank closed around 1950, it was used for several years as a post office."