AUCTIONS
APPLIANCE REPAIR
Kelly Appliance & Vacuum 931-244-7200
AIR CONDITIONING
D.E. Hill & Son 762-9584
ASSISTED LIVING
AUTO REPAIR


J & G Tire Center 931-762-0078
BANKS
CONSIGNMENT
On Second Thought Consignment 931-244-7244
CINEMAS
CLINICS
Clothing
On Second Thought Consignment 931-244-7244
COMPUTER REPAIR
DAY SPA
Envy Tanning & Spa 931-762-3689

ELECTRICAL & PLUMBING
Rick's Electrical & Plumbing 931-242-5325
ELECTRONICS
Lynn Electronics 762-0401
EXCAVATING / GRADING
Newton Backhoe Service 931-242-0305
FLORIST

Lawrenceburg Florist 762-3722
McKelvey's Flowers 762-4511

FUNERAL HOMES

Pettus-Turnbo Funeral Home 762-3291
FURNITURE
Green's Furniture
Swap & Shop Center
GIFTS
GLASS REPAIR
Lawrenceburg Glass 766-1004
HARDWARE
HEALTH PRODUCTS
Salt Glow 931-279-4780
HOBBY
Adventure Off Road 852-5445
INSURANCE
Aarons Insurance 931-629-8065
Baker Agency 762-4550
Wall-Modrall Insurance 762-6528
JEWELRY
Dixon's Fine Jewelry 762-9979
LAWN CARE


Dustin's Lawn Care 242-4414
MEDICAL
NATURAL FOODSNature's Nuggests 762-2895
OUTDOOR
Randy's Cycle & ATV 762-2450
PARTY / SUPPLIES
PAWN
Mo's Pawn Shop 762-2529
PHARMACY
Holland's Pharmacy 931-762-2220
POOLS/ SUPPLIES
By Pass Pools 931-762-7904

REAL ESTATE
RENTAL
RESTAURANTS
SPORTING GOODS
Fox Sporting Goods 931-766-0313
STORAGE
Loretto Storage 931-853-7867

TANNING
Envy Tanning & Spa
931-762-3689
TIRES
Groucho's Tires 931-762-1707
TRAVEL
Thursday, November 16, 2017
Mentors needed for Tennessee Promise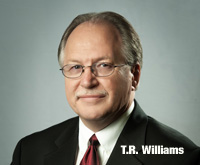 For the past two years I have written about the need for local residents to serve as mentors to high school seniors who will be continuing their education with the help of a Tennessee Promise scholarship. I am returning to the subject again because we need 23 more adults to help our children this year.
The class of 2018 will be the fourth to have their tuition paid through that program when they attend a community college or Tennessee College of Applied Technology (TCAT). This newest group needs mentors as well, and I want to encourage you to sign up to support them as they transition from high school to postsecondary education.
Seniors are applying now for the Tennessee Promise, and mentors' applications are due by December 1. The process is easy: go to TNAchieves.org and click the "Mentor" button. After you fill out a short application and choose a high school to serve, your obligations include two 1-hour meetings and an agreement to contact your students regularly, either by phone, e-mail or text.
Mentors are not required to help students and/or parents fill out their FAFSA (Free Application for Federal Student Aid), which can be intimidating, especially for families who have no prior experience with postsecondary schools. Guidance counselors at our three high schools are doing a fantastic job helping students get that paperwork filed.
TNAchieves is a non-profit group working with the state in most counties to help students through the Tennessee Promise process. Another part of their job is connecting Tennessee Promise students with agencies, organizations or churches that need their help. Students are required to complete eight hours of community service each semester, and TNAchieves maintains a list of opportunities, supplied by those who need volunteers. If your group needs assistance, go to the TNAchieves website to sign up for volunteers..
The Tennessee Promise is just one part of the Governor's Drive to 55 initiative, whose goal is that 55% of the state's residents have postsecondary credentials by 2025.
Another path to that goal is the Tennessee Reconnect program, which helps adults who want to go back to school, or go for the first time. It is there for those who want to earn a traditional college degree or TCAT certification. Check out the possibilities at TNreconnect.gov.
I've used a lot of numbers today, but this may be the most important one to remember: according to TNAchieves, when Lawrence County reaches the Drive to 55 goal, our residents will make an additional $32.6 million in earnings and fringe benefits combined.
You and your children will have significantly more earning power if you take advantage of the Tennessee Promise and Tennessee Reconnect programs. It will make a difference in your life and in your family for generations to come. Don't worry about the Governor's goals, because it's up to people like me to figure out ways to expand educational opportunities in Lawrence County. Think of your own.