AUCTIONS
APPLIANCE REPAIR
Kelly Appliance & Vacuum 931-244-7200
AIR CONDITIONING
D.E. Hill & Son 762-9584
ASSISTED LIVING
AUTO REPAIR


J & G Tire Center 931-762-0078
BANKS
CONSIGNMENT
On Second Thought Consignment 931-244-7244
CINEMAS
CLINICS
Clothing
On Second Thought Consignment 931-244-7244
COMPUTER REPAIR
DAY SPA
Envy Tanning & Spa 931-762-3689

ELECTRICAL & PLUMBING
Rick's Electrical & Plumbing 931-242-5325
ELECTRONICS
Lynn Electronics 762-0401
EXCAVATING / GRADING
Newton Backhoe Service 931-242-0305
FLORIST

Lawrenceburg Florist 762-3722
McKelvey's Flowers 762-4511

FUNERAL HOMES

Pettus-Turnbo Funeral Home 762-3291
FURNITURE
Green's Furniture
Swap & Shop Center
GIFTS
GLASS REPAIR
Lawrenceburg Glass 766-1004
HARDWARE
HEALTH PRODUCTS
Salt Glow 931-279-4780
HOBBY
Adventure Off Road 852-5445
INSURANCE
Aarons Insurance 931-629-8065
Baker Agency 762-4550
Wall-Modrall Insurance 762-6528
JEWELRY
Dixon's Fine Jewelry 762-9979
LAWN CARE


Dustin's Lawn Care 242-4414
MEDICAL
NATURAL FOODSNature's Nuggests 762-2895
OUTDOOR
Randy's Cycle & ATV 762-2450
PARTY / SUPPLIES
PAWN
Mo's Pawn Shop 762-2529
PHARMACY
Holland's Pharmacy 931-762-2220
POOLS/ SUPPLIES
By Pass Pools 931-762-7904

REAL ESTATE
RENTAL
RESTAURANTS
SPORTING GOODS
Fox Sporting Goods 931-766-0313
STORAGE
Loretto Storage 931-853-7867

TANNING
Envy Tanning & Spa
931-762-3689
TIRES
Groucho's Tires 931-762-1707
TRAVEL
Wednesday, November 15, 2017
Lady Beetle Invading Homes
Calvin Bryant / Lawrence County Extension Director
With the arrival of the cooler temperatures that come with the changing of the seasons some insects start looking for warmer places to spend the winter.
One of the most common insect invaders is the Multicolored Asian lady beetle. These beetles are orange-red with a variable number of spots and sometimes they are referred to as "Halloween Beetles".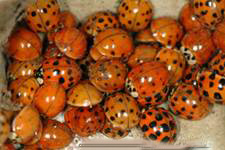 These beetles may congregate on the sunny sides of buildings by the thousands and, if given the opportunity, will often move inside in search of an overwintering site.
In Japan, they seek protected sites such as cracks and crevices in rocks on mountains. In the U.S., they use buildings as overwintering sites. This can be a particular problem in log homes because of their many cracks and crevices.
These Multicolored Asian lady beetles were first introduced into the United States to control aphids and because of this they are generally considered to be a beneficial insect.
These beetles do not sting, do not carry diseases and do not consume or excavate wood. However these same friendly bugs, when inside a home can stain wallpaper and upholstery yellow when crushed. When the multicolored Asian lady beetle is present in large numbers, some individuals with insect allergies have been irritated.
What attracts these insects to your home? The beetles seem to be attracted to light-colored walls, but this is not always the case. Dark-colored buildings are still invaded. Large windows or other reflective surfaces may also attract them.
What can be done to prevent this beetle from entering your home? Exclude them! Don't give them the chance to enter! Exclusion practices should be performed each year with the arrival of autumn.
The first step to prevent entry into a home is to seal cracks and crevices where insects may enter the structure. Once the beetles have found a crack and crevice to over-winter, they may remain inactive on cool days.
On warm days when the sun is shining, activity is often seen on the western or southern side of the house. Take notice of the direction from which the beetles are coming and try to locate their resting spot.
Locate this resting spot on a cool day, when the beetles will be clustered and can easily be removed with a vacuum. Unfortunately, these resting spots may be in wall voids or other inaccessible spaces.
For more information about what can be done to prevent this beetle from entering your home, contact UT Extension Lawrence County by calling (931) 762-5506.