AUCTIONS
APPLIANCE REPAIR
Kelly Appliance & Vacuum 931-244-7200
AIR CONDITIONING
D.E. Hill & Son 762-9584
ASSISTED LIVING
AUTO REPAIR


J & G Tire Center 931-762-0078
BANKS
CONSIGNMENT
On Second Thought Consignment 931-244-7244
CINEMAS
CLINICS
Clothing
On Second Thought Consignment 931-244-7244
COMPUTER REPAIR
DAY SPA
Envy Tanning & Spa 931-762-3689

ELECTRICAL & PLUMBING
Rick's Electrical & Plumbing 931-242-5325
ELECTRONICS
Lynn Electronics 762-0401
EXCAVATING / GRADING
Newton Backhoe Service 931-242-0305
FLORIST

Lawrenceburg Florist 762-3722
McKelvey's Flowers 762-4511

FUNERAL HOMES

Pettus-Turnbo Funeral Home 762-3291
FURNITURE
Green's Furniture
Swap & Shop Center
GIFTS
GLASS REPAIR
Lawrenceburg Glass 766-1004
HARDWARE
HEALTH PRODUCTS
Salt Glow 931-279-4780
HOBBY
Adventure Off Road 852-5445
INSURANCE
Aarons Insurance 931-629-8065
Baker Agency 762-4550
Wall-Modrall Insurance 762-6528
JEWELRY
Dixon's Fine Jewelry 762-9979
LAWN CARE


Dustin's Lawn Care 242-4414
MEDICAL
NATURAL FOODSNature's Nuggests 762-2895
OUTDOOR
Randy's Cycle & ATV 762-2450
PARTY / SUPPLIES
PAWN
Mo's Pawn Shop 762-2529
PHARMACY
Holland's Pharmacy 931-762-2220
POOLS/ SUPPLIES
By Pass Pools 931-762-7904

REAL ESTATE
RENTAL
RESTAURANTS
SPORTING GOODS
Fox Sporting Goods 931-766-0313
STORAGE
Loretto Storage 931-853-7867

TANNING
Envy Tanning & Spa
931-762-3689
TIRES
Groucho's Tires 931-762-1707
TRAVEL
Wednesday, November 8, 2017
A challenge to embrace change
Do you love a challenge?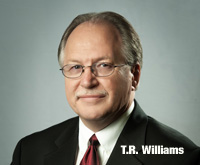 I always have. When I was young and foolish, I responded to any kind of challenge. "I bet you won't do that." "What are you, scared?" "I dare you."
I'm lucky I lived through some of those challenges, but others brought out the best in me: supporting a family; running a business; standing behind a pulpit; running for public office.
Life has a way of forcing us into action. "The only thing that is constant is change" was written in 500 B.C. by the Greek philosopher Heraclitus, but he never dreamed of change on the scale that we see today. No one could imagine it 30 years ago.
Thirty years ago it would have taken a trip to the library to credit Heraclitus with that quote. I looked it up on the internet in less than a minute, and in another minute I found information about the "doubling of knowledge," a measure of the intelligence mankind has accumulated and transmitted since the year 1 AD.
It took 1500 years and the invention of the printing press to double the knowledge of year 1. Doubling from the year 1500 took 250 years; doubling from 1750 took 150 years. Today, it's estimated that mankind's recorded knowledge doubles every 11 hours.
How can we deal with the challenges an ever-changing world presents? One word: Education.
If you have a child of any age in your life, encourage him or her to read and write and think outside the classroom, and to take classes that aren't necessarily easy for them. Make sure they take advantage of the Tennessee Promise and the convenience of postsecondary options that are here and very close by. Help us bring more of those opportunities to Lawrence County by supporting our new four-year college.
Adults, challenge yourselves by reading, writing, and thinking even when you don't have to. Take advantage of the Tennessee Reconnect program and its free tuition for Tennessee College of Applied Technology (TCATs) and community college. Arm yourself with skills that employers need now and in the future.
"Challenges of the future" was my next internet search. In less than a minute I found a Fast Company article that not only underscores my advice about education, but adds a significant footnote:
"Research (has) found as many as 40% of employers in nine countries said lack of skills was the main reason for entry-level job vacancies. Sixty percent of them said that new graduates were not adequately prepared to work.
"They cited the lack of both technical and soft skills such as communication, teamwork, and punctuality as reasons they couldn't fill open positions. Chief among the complaints by hiring managers were that communication, leadership, ownership, and teamwork were missing in this new crop of workers."
Change usually makes us leave our comfort zones. The phrase "rising to the challenge" (no matter who coined it) suggests we have to lift ourselves up first. Figure out what that means for you, and do it. I dare you.