Maury County Sheriff's Department was involved in a lengthy chase with a suspect driving a front end loader.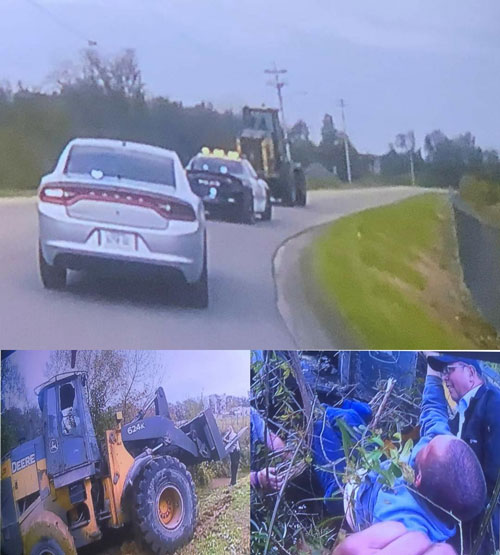 Maury County Sheriff's Department was dispatched Sunday around 2:30 a.m. to a manufacturing company in Mt. Pleasant to execute an aggravated domestic assault warrant on Shaun Ray Lansfield.
Upon arrival Lansfield was already angry, and sitting inside his front end loader where deputies spoke with him on the phone after the suspect refused to come to the office.
Lansfield expressed his frustration regarding the charges which resulted in the suspect fleeing the business in the front end loader.
Maury County Deputy Bucky Rowland reported to News 2 that their deputies could of used lethal force, but instead chose to exercise patience in handling the situation.
As the pursuit continued through the sun rising Lansfield made several aggressive movements towards authorities where he would lower the forks in their direction.
After approximately 5 hours of Lansfield driving around in the Front end loader, and multiple attempts through communication over the phone to convince the suspect to surrender the command was given to fire pepper gas into the front cab.
The suspect still refused to stop, and instead began heading towards the city streets of Mt. Pleasant making this an even more dangerous situation.
Once the suspect began driving on nearby train track deputies were able to move in on foot, and towards Lansfield when the front end loader was exiting the tracks.
A smoke grenade was tossed into the cab of the front end loader where the suspect still refused to surrender resulting in bean bag rounds being fired at Lansfield, but Luckily the Sheriff was able to quickly reach in to grab the suspect.
Along with Lansfield's initial charges of aggravated assault he now faces felony evading, reckless endangerment, vandalism and theft of the front end loader.
The situation that lasted a total of 8 hours resulted in a safe resolution with only minor injuries reported thanks to the patience, and dedication of authorities.