AUCTIONS
APPLIANCE REPAIR
Kelly Appliance & Vacuum 931-244-7200
AIR CONDITIONING
D.E. Hill & Son 762-9584
ASSISTED LIVING
AUTO REPAIR


J & G Tire Center 931-762-0078
BANKS
CONSIGNMENT
On Second Thought Consignment 931-244-7244
CINEMAS
CLINICS
Clothing
On Second Thought Consignment 931-244-7244
COMPUTER REPAIR
DAY SPA
Envy Tanning & Spa 931-762-3689

ELECTRICAL & PLUMBING
Rick's Electrical & Plumbing 931-242-5325
ELECTRONICS
Lynn Electronics 762-0401
EXCAVATING / GRADING
Newton Backhoe Service 931-242-0305
FLORIST

Lawrenceburg Florist 762-3722
McKelvey's Flowers 762-4511

FUNERAL HOMES

Pettus-Turnbo Funeral Home 762-3291
FURNITURE
Green's Furniture
Swap & Shop Center
GIFTS
GLASS REPAIR
Lawrenceburg Glass 766-1004
HARDWARE
HEALTH PRODUCTS
Salt Glow 931-279-4780
HOBBY
Adventure Off Road 852-5445
INSURANCE
Aarons Insurance 931-629-8065
Baker Agency 762-4550
Wall-Modrall Insurance 762-6528
JEWELRY
Dixon's Fine Jewelry 762-9979
LAWN CARE


Dustin's Lawn Care 242-4414
MEDICAL
NATURAL FOODSNature's Nuggests 762-2895
OUTDOOR
Randy's Cycle & ATV 762-2450
PARTY / SUPPLIES
PAWN
Mo's Pawn Shop 762-2529
PHARMACY
Holland's Pharmacy 931-762-2220
POOLS/ SUPPLIES
By Pass Pools 931-762-7904

REAL ESTATE
RENTAL
RESTAURANTS
SPORTING GOODS
Fox Sporting Goods 931-766-0313
STORAGE
Loretto Storage 931-853-7867

TANNING
Envy Tanning & Spa
931-762-3689
TIRES
Groucho's Tires 931-762-1707
TRAVEL
Friday, November 3, 2017
Chamber of Commerce Christmas Parade is December 2
The streets of Lawrenceburg will be filled with kids of all ages, floats, bands, and Christmas magic as we kick-off the Chamber of Commerce Christmas Parade, presented by Heritage Automotive Center. The 63rd annual Christmas Parade will be held on Saturday, December 2nd at 5:00pm.
For safety and the convenience of people traveling through Lawrenceburg, the parade will not travel on U.S. Highway 43. The new route will begin at Rotary Park, traveling on North Military Avenue and ending on Mahr Avenue.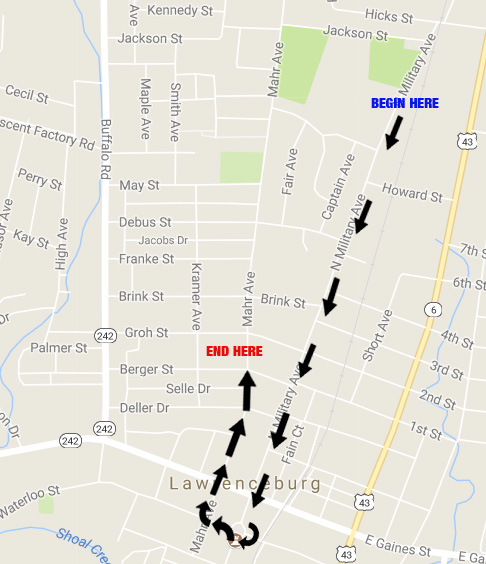 Lineup begins at 3:30pm. Entries will enter Rotary Park through the Jackson Street Gate. The Lawrenceburg Kiwanis Club members will be on site directing all entries to their designated area. Entries must register with the Chamber of Commerce by November 20th. Only those registered will be allowed to enter the parade. A $10 registration fee is due by November 20th for advertising entries only.
First and Second place awards will be given for floats in four categories; Church, School/Youth, Commercial, Non-Profit Organizations. Judging will be held at Rotary Park during line-up. Judging will be based on creativity, neatness, use of lights and music. Winners will be announced at 8:00pm at www.facebook.com/seelawco .
At 5:00pm, the parade will exit Rotary Park at the Pit Gate on North Military Avenue and travel south to the Public Square. The parade will go left around the Public Square, exit on Waterloo Street, then right on Mahr Avenue to Berger Street. For those watching the parade on Mahr Avenue, the route ends at Berger Street.
The line-up will be listed in the Democrat Union on November 28th and the Advocate on November 29th. Call Beth at the Chamber of Commerce at 931-762-4911 to register your entry.