AUCTIONS
APPLIANCE REPAIR
Kelly Appliance & Vacuum 931-244-7200
AIR CONDITIONING
D.E. Hill & Son 762-9584
ASSISTED LIVING
AUTO REPAIR


J & G Tire Center 931-762-0078
BANKS
CONSIGNMENT
On Second Thought Consignment 931-244-7244
CINEMAS
CLINICS
Clothing
On Second Thought Consignment 931-244-7244
COMPUTER REPAIR
DAY SPA
Envy Tanning & Spa 931-762-3689

ELECTRICAL & PLUMBING
Rick's Electrical & Plumbing 931-242-5325
ELECTRONICS
Lynn Electronics 762-0401
EXCAVATING / GRADING
Newton Backhoe Service 931-242-0305
FLORIST

Lawrenceburg Florist 762-3722
McKelvey's Flowers 762-4511

FUNERAL HOMES

Pettus-Turnbo Funeral Home 762-3291
FURNITURE
Green's Furniture
Swap & Shop Center
GIFTS
GLASS REPAIR
Lawrenceburg Glass 766-1004
HARDWARE
HEALTH PRODUCTS
Salt Glow 931-279-4780
HOBBY
Adventure Off Road 852-5445
INSURANCE
Aarons Insurance 931-629-8065
Baker Agency 762-4550
Wall-Modrall Insurance 762-6528
JEWELRY
Dixon's Fine Jewelry 762-9979
LAWN CARE


Dustin's Lawn Care 242-4414
MEDICAL
NATURAL FOODSNature's Nuggests 762-2895
OUTDOOR
Randy's Cycle & ATV 762-2450
PARTY / SUPPLIES
PAWN
Mo's Pawn Shop 762-2529
PHARMACY
Holland's Pharmacy 931-762-2220
POOLS/ SUPPLIES
By Pass Pools 931-762-7904

REAL ESTATE
RENTAL
RESTAURANTS
SPORTING GOODS
Fox Sporting Goods 931-766-0313
STORAGE
Loretto Storage 931-853-7867

TANNING
Envy Tanning & Spa
931-762-3689
TIRES
Groucho's Tires 931-762-1707
TRAVEL
Tuesday, October 10, 2017
Drawing brings college plan to life
The vision of a new college facility in Lawrence County has been given shape with an architect's drawing of the building and 40-acre campus.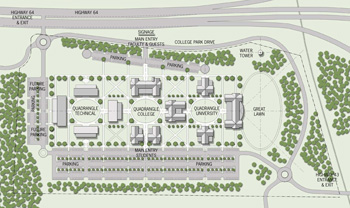 Members of the Lawrence County Higher Education Committee released a diagram of the two-story, 40,000-square foot brick and limestone facility that is projected to be ready for students in Fall 2019.
(click to enlarge)
"This is beyond anything any of us had pictured in our minds," said Committee Chairman Jim Cone. "We're so excited to share this beautiful plan with the community."
The building will house classes leading to an Associate's degree from Columbia State Community College and classes leading to a Bachelor's from Tennessee Tech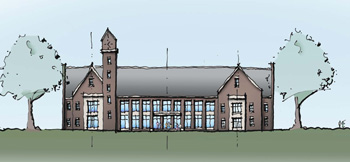 University. Middle Tennessee State University and Martin Methodist College are also interested in offering third- and fourth-year classes there.
(click to enlarge)
Bauer Askew Architecture of Nashville was chosen for the job because of their recent experience designing the Williamson County campus of Columbia State. They were asked to incorporate elements of traditional and contemporary college architecture, with a nod to Lawrence County's history.
Interior plans include office space, a community room and large common area for students. Columbia State's Interim Vice President of Student Affairs Cissy Holt is working with faculty and IT staff to plan classroom and lab space.
Groundbreaking is planned for April, 2018, and to save funds, groundwork will also begin on a second, 20,000-square foot building immediately southwest of the first. That facility will house courses leading to certificates from the Tennessee College of Advanced Technology (TCAT).
The architect's drawing of the campus includes eleven buildings which will be built as the student body grows, Cone explained. The plan calls for three connected but separate areas – the western quadrangle dedicated to technical classes; the center to college courses; and the eastern to university classes. A Great Lawn on the east end of the campus can host anything from community events to family picnics.
The campus is located in the southwest corner of the intersection of Highway 43 South and the Highway 64 bypass, with an entrance from Highway 64. Some trees will be removed, but most trimmed from the bottom up so the college can be seen from both roads.
"It was very important that the campus be adjacent to these major highways," Cone said. "We wanted the site to be easily accessible for students who live here, and for those who will come from outside Lawrence County. We also wanted it to be in a place where it would make a great visual impact."
Lawrenceburg and Lawrence County governments have committed $1.5 million each to the project and the state of Tennessee has already given $4.6 million.
Private fundraising for $1.5 million is about to get underway, directed by fundraising chairman Jonathan Edwards. Major donations have already come from First Farmers & Merchants Bank, Edwards Oil/Quik Mart, Doss Brothers, Parkes Lumber, Southern Craft, the Hazel Kraus Foundation, Marguerite Rose Burton Foundation, the Holtsford Foundation, and Columbia State.
Lawrence County government will own the facility and lease it to Columbia State, which will manage the building and lease classroom space to other schools. The Lawrence County Higher Education Committee (LCHEC) will serve as advisors to the county.
As Chairman of LCHEC, Cone is available to speak to any group about the college plan, and can be contacted at 931-244-4754. Donations may be mailed to P.O. Box 279, Lawrenceburg, and checks should be made payable to LCHEC.