AUCTIONS
APPLIANCE REPAIR
Kelly Appliance & Vacuum 931-244-7200
AIR CONDITIONING
D.E. Hill & Son 762-9584
ASSISTED LIVING
AUTO REPAIR


J & G Tire Center 931-762-0078
BANKS
CONSIGNMENT
On Second Thought Consignment 931-244-7244
CINEMAS
CLINICS
Clothing
On Second Thought Consignment 931-244-7244
COMPUTER REPAIR
DAY SPA
Envy Tanning & Spa 931-762-3689

ELECTRICAL & PLUMBING
Rick's Electrical & Plumbing 931-242-5325
ELECTRONICS
Lynn Electronics 762-0401
EXCAVATING / GRADING
Newton Backhoe Service 931-242-0305
FLORIST

Lawrenceburg Florist 762-3722
McKelvey's Flowers 762-4511

FUNERAL HOMES

Pettus-Turnbo Funeral Home 762-3291
FURNITURE
Green's Furniture
Swap & Shop Center
GIFTS
GLASS REPAIR
Lawrenceburg Glass 766-1004
HARDWARE
HEALTH PRODUCTS
Salt Glow 931-279-4780
HOBBY
Adventure Off Road 852-5445
INSURANCE
Aarons Insurance 931-629-8065
Baker Agency 762-4550
Wall-Modrall Insurance 762-6528
JEWELRY
Dixon's Fine Jewelry 762-9979
LAWN CARE


Dustin's Lawn Care 242-4414
MEDICAL
NATURAL FOODSNature's Nuggests 762-2895
OUTDOOR
Randy's Cycle & ATV 762-2450
PARTY / SUPPLIES
PAWN
Mo's Pawn Shop 762-2529
PHARMACY
Holland's Pharmacy 931-762-2220
POOLS/ SUPPLIES
By Pass Pools 931-762-7904

REAL ESTATE
RENTAL
RESTAURANTS
SPORTING GOODS
Fox Sporting Goods 931-766-0313
STORAGE
Loretto Storage 931-853-7867

TANNING
Envy Tanning & Spa
931-762-3689
TIRES
Groucho's Tires 931-762-1707
TRAVEL
Monday, October 9, 2017
Martin Methodist to hold Shakespeare and Friends on the Green
This year, Martin Methodist College (MMC) opted to modify the traditional Shakespeare on the Green play by branching out to give actors the chance to do productions of other classic plays and modern plays that relate in some way to William Shakespeare or verse drama.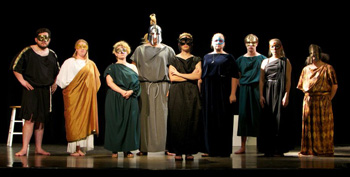 This year's newly revised Shakespeare and Friends on the Green will feature the Greek tragedy "Medea."
Serving as director of the play is MMC English Professor Dr. Kayla Wiggins. "The Greek tragedy 'Medea' dramatizes the response of Medea, the foreign wife of the Greek hero Jason, to the betrayal by her husband and the breakdown of her home," said Wiggins. "
A powerful play about love and hate, pride and revenge, 'Medea' challenges traditional ethics and forces the characters and the audience to confront difficult questions about right and wrong, good and bad, and duty and honor."
The cast comprise new and returning MMC students.
Annslee Swann as Medea
Chris Allen as Jason
Sydney Gregory as the Nurse
Robert Austell as the Tutor
Turner Henderson as Creon
Bryant Clark as Aegeus
Jessica Sudduth as the Chorus
Daarte Matteau as the Chorus
Makenzie Garrett as the Chorus
The production will be held on October 20, 21, and 22 at 6:30 p.m. at the Grissom Gazebo located on the Campus Green. In the event of inclement weather, the play will be held in the Martin Hall Movie Theatre. Admission is free, and the community is encouraged to attend.