AUCTIONS
APPLIANCE REPAIR
Kelly Appliance & Vacuum 931-244-7200
AIR CONDITIONING
D.E. Hill & Son 762-9584
ASSISTED LIVING
AUTO REPAIR


J & G Tire Center 931-762-0078
BANKS
CONSIGNMENT
On Second Thought Consignment 931-244-7244
CINEMAS
CLINICS
Clothing
On Second Thought Consignment 931-244-7244
COMPUTER REPAIR
DAY SPA
Envy Tanning & Spa 931-762-3689

ELECTRICAL & PLUMBING
Rick's Electrical & Plumbing 931-242-5325
ELECTRONICS
Lynn Electronics 762-0401
EXCAVATING / GRADING
Newton Backhoe Service 931-242-0305
FLORIST

Lawrenceburg Florist 762-3722
McKelvey's Flowers 762-4511

FUNERAL HOMES

Pettus-Turnbo Funeral Home 762-3291
FURNITURE
Green's Furniture
Swap & Shop Center
GIFTS
GLASS REPAIR
Lawrenceburg Glass 766-1004
HARDWARE
HEALTH PRODUCTS
Salt Glow 931-279-4780
HOBBY
Adventure Off Road 852-5445
INSURANCE
Aarons Insurance 931-629-8065
Baker Agency 762-4550
Wall-Modrall Insurance 762-6528
JEWELRY
Dixon's Fine Jewelry 762-9979
LAWN CARE


Dustin's Lawn Care 242-4414
MEDICAL
NATURAL FOODSNature's Nuggests 762-2895
OUTDOOR
Randy's Cycle & ATV 762-2450
PARTY / SUPPLIES
PAWN
Mo's Pawn Shop 762-2529
PHARMACY
Holland's Pharmacy 931-762-2220
POOLS/ SUPPLIES
By Pass Pools 931-762-7904

REAL ESTATE
RENTAL
RESTAURANTS
SPORTING GOODS
Fox Sporting Goods 931-766-0313
STORAGE
Loretto Storage 931-853-7867

TANNING
Envy Tanning & Spa
931-762-3689
TIRES
Groucho's Tires 931-762-1707
TRAVEL
Friday, October 6, 2017
Arrest made for illegal possession of firearms
Lawrenceburg Now
Lawrence County Sheriff's Department officials reported Friday that a local man was arrested for illegal possession of firearms earlier in the week.
Information released through the department shows that deputies accompanied agents with State Probation and Parole to the 103 Big Springs Fork home of James Alexander Christian, age 26, on Monday.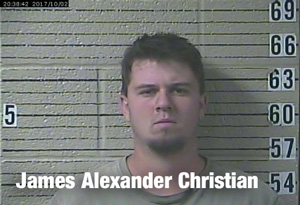 Although they were unable to make contact with anyone at the home, reports show that deputies noticed numerous firearms lying in plain view on the seat and floorboard of a truck in the driveway.
A check of the license plate revealed that the truck was registered to Christian. Because he is a convicted felon, Christian is prohibited from possessing firearms.
All of the weapons were seized, including a Remington 870 12 gauge, Mossberg 500 12 gauge, Remington 770 .243, Remington 597 .22LR, Charter Arms 38 special, Springfield XD 9mm, and a Hi Point JHP 45ACP.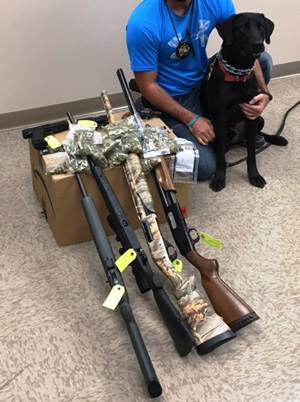 Deputies issued warrants against Christian charging him with unlawful possession of firearms, then returned to his home the following day. They were able to make contact with him quickly and serve the warrants, taking him into custody.
Deputies had again accompanied state probation officers and had brought along a K-9 officer, as well. They report that Christian's home was searched subsequent to his arrest. The K-9 officer located a bag and grinder in the oven.
The bag contained 11.5 grams of marijuana individually packaged for distribution along with three sets of digital scales, three electric Vape sticks, a container of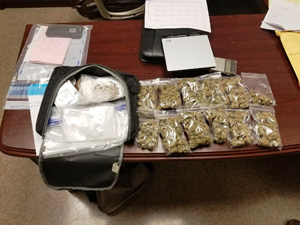 marijuana seeds, and Ziplock bags.
The drugs and paraphernalia were seized along with $527 in cash believed to be proceeds of illegal drug sales and an iPhone 6.
Christian was transported to the Lawrence County Detention Center where he was booked on the original firearms charges as well as charges of possession of Schedule VI narcotics for the purpose of resale and possession of drug paraphernalia. Officials indicate that Christian will face charges of violation of probation, as well.
Christian was incarcerated under a $71,000 bond.
Sheriff's department officials encourage those with knowledge of any type of illegal activity to contact the department at 762-3626. You man contact the Criminal Investigation Division directly at 931-762-1608 or report tips confidentially by messaging the department's Facebook page, Lawrence County, Tennessee Sheriff's Department.