AUCTIONS
APPLIANCE REPAIR
Kelly Appliance & Vacuum 931-244-7200
AIR CONDITIONING
D.E. Hill & Son 762-9584
ASSISTED LIVING
AUTO REPAIR


J & G Tire Center 931-762-0078
BANKS
CONSIGNMENT
On Second Thought Consignment 931-244-7244
CINEMAS
CLINICS
Clothing
On Second Thought Consignment 931-244-7244
COMPUTER REPAIR
DAY SPA
Envy Tanning & Spa 931-762-3689

ELECTRICAL & PLUMBING
Rick's Electrical & Plumbing 931-242-5325
ELECTRONICS
Lynn Electronics 762-0401
EXCAVATING / GRADING
Newton Backhoe Service 931-242-0305
FLORIST

Lawrenceburg Florist 762-3722
McKelvey's Flowers 762-4511

FUNERAL HOMES

Pettus-Turnbo Funeral Home 762-3291
FURNITURE
Green's Furniture
Swap & Shop Center
GIFTS
GLASS REPAIR
Lawrenceburg Glass 766-1004
HARDWARE
HEALTH PRODUCTS
Salt Glow 931-279-4780
HOBBY
Adventure Off Road 852-5445
INSURANCE
Aarons Insurance 931-629-8065
Baker Agency 762-4550
Wall-Modrall Insurance 762-6528
JEWELRY
Dixon's Fine Jewelry 762-9979
LAWN CARE


Dustin's Lawn Care 242-4414
MEDICAL
NATURAL FOODSNature's Nuggests 762-2895
OUTDOOR
Randy's Cycle & ATV 762-2450
PARTY / SUPPLIES
PAWN
Mo's Pawn Shop 762-2529
PHARMACY
Holland's Pharmacy 931-762-2220
POOLS/ SUPPLIES
By Pass Pools 931-762-7904

REAL ESTATE
RENTAL
RESTAURANTS
SPORTING GOODS
Fox Sporting Goods 931-766-0313
STORAGE
Loretto Storage 931-853-7867

TANNING
Envy Tanning & Spa
931-762-3689
TIRES
Groucho's Tires 931-762-1707
TRAVEL
Wednesday, October 4, 2017
2017 4-H Chick Chain Show at the fair
On Saturday, September 23rd, 4-H'ers from across Lawrence County loaded up their chickens and made their way to the 2017 4-H Chick Chain Show, and Auction hosted at the Middle Tennessee District Fair.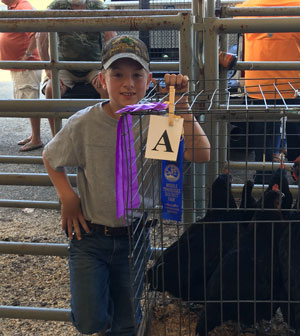 The objectives of this project is to help youth learn poultry nutrition and care, to develop communication skills, and responsibility. Over 30 youth participated in this 4-H Chick Chain program and raised their very own chickens.
Each month 4-Hers participated in workshops that are hosted by our great volunteer leaders, Candace Bedford and Patti Hartsfield. These workshops are designed to help 4-H'ers learn the proper housing, nutrition, and over all proper care for their chickens.
On Show and Auction day, 4-Her's have the opportunities to showcase the "egg-celent" skills they have learned throughout summer, by showing off their best six birds that they have raised from pullets. Grand Champions went to Brayden Long and Libbie Burks.
Reserve Champions went to Kelby Harvill and Joseph Haney. Blue ribbons were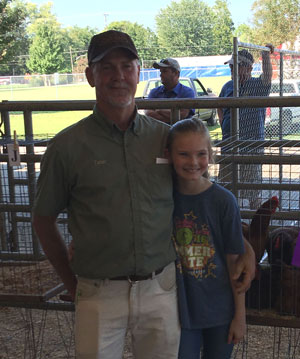 awarded to Kylie Barnett, Sam Jones, and Red Ribbons were awarded to Abby Gambel, Hank Gobble, and Karlee Jo Davis.
The UT/TSU Extension in Lawrence County would also like to thank all the supporters that came out to share this day with our 4-Her's. Those include but are not limited to State Representative Barry Doss & Brother Jeff Doss, Lawrence County Farmers CO-OP, Larry Gobble, and P&P Poultry.
If it was not for the support of our community we could not continue to offer such great programs for the youth of Lawrence County, and for that we thank each and every one that came out.
If you know someone in the 4-12 grade that has a passion for poultry or just wants to learn more. Contact the UT/TSU Extension Office in Lawrence County at 931-762-5506 and join the 4-H Poultry Club.