As the Investigation continues into the homicide of Gabby Petito that has gained national attention as FBI searches for the victim's boyfriend with reported sightings in Florida, and Alabama.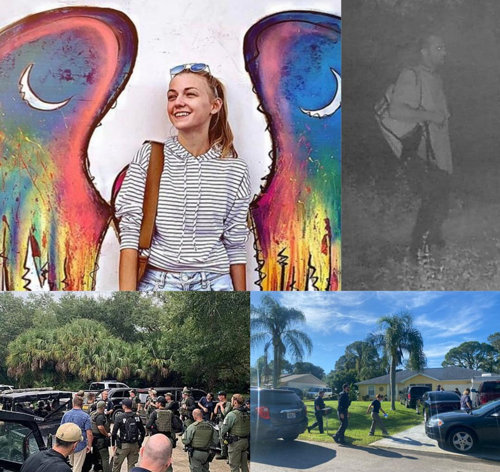 The missing person case of 22-year-old Gabby Petito garnished national attention after her boyfriend 23-year old Brian Laundrie went on a cross country trip with Petito, but returned home to his parent's house in North Port, Florida without her.
The North Port Police reported that Petito and Laundrie began their cross-country trip in June where they traveled in Petito's white Ford van to the West Coast visiting state and national parks across the western United States.
Petito documented their "Van Life" travels regularly through social media, and even uploaded a video to youtube as well as staying in contact with her parents prior to her disappearance.
On August 12th in Moab, Utah the couple had an encounter with police after officers noticed their van swerving along the roadway, and a traffic stop was conducted.
According to police the couple had been "engaged in some sort of altercation," where officer Daniel Robbins reported, "After evaluating the totality of the circumstances, I do not believe the situation escalated to the level of a domestic assault as much as that of a mental health crisis," where No charges were filed.
Later it was discovered after the Grand County Sheriff's Office released information regarding a 911 call where the caller wanted to report a domestic dispute and described a white van with a Florida license plate.
The caller stated that the gentleman was slapping the girl with the altercation continuing up and down a sidewalk where he hit her before they both hoped back into the van, and drove off.
On August 25th it would be reported as the final Instagram photo post from Petito as well as last phone call to family where she told her mother Nicole Schmidt that she was in Grand Tetoh National Park.
Petito did go on to send her mother a text message on August 27th with her mother describing the text as odd where the text read: "Can you help Stan, I just keep getting his voicemails and missed calls."
According to the warrant: "The reference to 'Stan' was regarding her grandfather, but per the mother, she never calls him 'Stan,' which the mother was concerned that something was wrong with her daughter."
During the investigation of Patito's dissapearance a woman came foward stating on Tik Tok that on the evening of August 29th she, and her boyfriend picked up Laundrie while he was hitchhiking in Colter Bay, Wyoming where he told the couple that he had been camping by himself at a site outside the Grand Teton National Park, near the Snake River, while Petito was at their van working on social media posts.
Once Laundrie found out that the woman and her boyfriend were going to Jackson Hole instead of Jackson, he got agitated, asking to get out near the Jackson Dam.
Petito's mother reported on August 30th receiving final text from her daughter that read, "No signal in Yosemite," which was referring to Yosemite National Park in Northern California.
According to an affidavit attached to a search warrant request, a license plate reader shows Petito's vehicle exited Interstate 75 into North Port at 10:26 a.m. on September 1st where Laundrie arrived at his parent's house without Patito.
On September 11th Petito's family who live in New York contacted the Suffolk County, Police Department to report their daughter missing as they were unable to reach Laundrie as well.
The North Port authorities in Florida were then dispatched to Laundrie's home that night where unfortunately instead of speaking with Laudrie about his girlfriend's dissapearance police were handed the information for their attorney.
Petito's white van was spotted parked at the home while authorities were there which was later recovered by police at the home.
On Friday September 17th while the FBI were actively conducting ground surveys in Grand Teton National Park, where Petito is believed to have been before her last communication with her family, police were contacted by Laudrie's parents who told officers that Laudrie was missing.
Laudrie's parents reported that their son left on Tuesday September 14th to go hiking at the Carlton Reserve which is a natural area with more than 80 miles of hiking trails in Venice, Florida, and that they have not seen their son since.
The following day on September 18th North Port police stated that there was now roughly 50 law enforcement officers from five local agencies and the FBI searching for Laundrie in the Carlton Reserve.
Tragically on September 19th the FBI announced that Human remains had been discovered in Teton County, Wyoming, and are "consistent with the description of" Petito.
The FBI executed a search warrant on Monday September 20th with agents arriving around 10:00 a.m. as they led Laundrie's parents, Christopher and Roberta Laundrie, into a vehicle before returning to the house to collect evidence and tow away the car that Laudrie was reported to have drove on the day he went missing.
The Teton County coroner has now confirmed on Tuesday September 21st that the human remains found Sunday in the Bridger-Teton National Forest were those of Petito with her death being ruled a homicide, but the cause of death remains pending until final autopsy results.
With the FBI classifying Brian Laudrie as "a person of interest" regarding the dissapearance, and homicide of Gabby Petito, reports have been coming in with potential sightings.
One report came from a man by the name of Sam Bass who told authorties that a man fitting Brian's description was seen on his trail camera set up in the wilderness in Baker, Florida early Monday morning.
Following that sighting the news outlet WAFF 48 confirmed with police officers in Mobile, Alabama that after receiving several reports of a man matching Laundrie's description was supposedly seen that they did search the area for Brian Laudrie.
The WAFF 48 News Digital Team confirmed with a restaurant in Mobile that police officers were asking for security footage after reports that Laundrie was seen in the Tillman's Corner area. The restaurant said that officers came by and said they were going to another restaurant that Laundrie was reportedly seen eating at.
At this time these sightings have not been confirmed as positive sightings of Brian Laudrie, and an active search continues for Laudrie.
Anyone with information regarding Brian Laudrie's whearabouts is asked to contact their local authorties.

Photo Credit: North Port Police, FOX NEWS, WFLA, WAFF 48.