Dog the Bounty Hunter's son located missing child during first patrol after graduating from Alabama Police Department.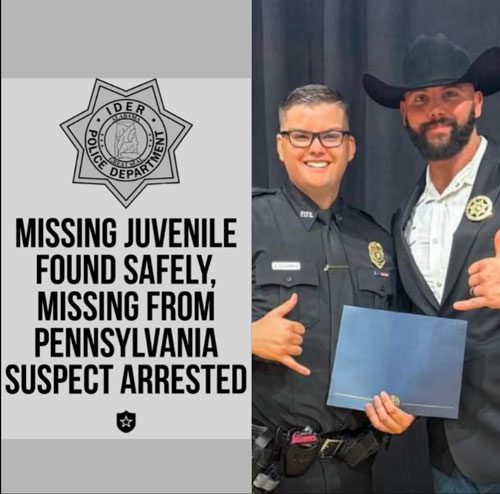 The Ider Alabama Police Department issued the following release:
"During a traffic stop conducted by Officer Chapman on his first day of certified service, an investigation by Officer Chapman and Chief Malone ensued.
A male juvenile was found as a passenger inside a vehicle driven by a Mrs. Amanda Beiland of Ider, AL.
During the investigation Officers determined the juvenile was an active missing persons, and had been reported missing from the State Of Pennsylvania for over a week.
With the help from Scranton Police Department(Pennsylvania) and the Dekalb County Juvenile Court the juvenile was taken into our care and custody where he will be transported back home to his guardian.
Mrs. Beiland was charged with interference with child custody(Class C Felony). During the investigation Officers learned Mrs. Beiland had a previous charge In DeKalb County for Chemical endangerment of a child as well.
"Cases like these are very serious, and to know that this juvenile was missing from over eight hundred miles and five states away is extremely concerning to me.
Juveniles are very gullible and that's exactly why there are legal procedures in place to keep this from happening. The safety of children is the upmost importance to us, regardless if they live within the community or even eight hundred miles away.
I'm thankful my Officers are so diligent at the job they do, and I know this juveniles guardians are absolutely thankful for their loved one to be returned home safety. Being able to make the call to this boys guardian letting them know he's safe and on his way home is one the most rewarding parts of this job."
-Chief Malone
**All suspects and persons posted on this page are presumed innocent until proven guilty in a court of law. Information and photos/videos posted here are obtained from public sources (arrest records, booking lists, jail rosters, court documents, taken within public areas, within public view)and or property/evidence belonging to the Ider Police Department. Any information relating to juveniles will NOT be released due to privacy concerns**"