Lawrenceburg Fire Department

Shortly before 11:00 AM emergency personnel were dispatched to Shoal Creek in Iron City for a reported water emergency involving 22 kayakers in 18 boats.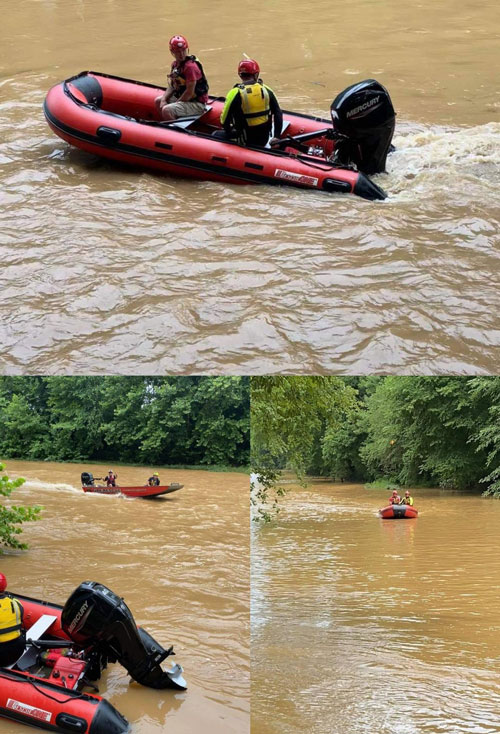 The Lawrenceburg Fire / Lawrence County Fire Rescue Swift Water Rescue Strike Team was deployed to the incident along with Iron City FD, Lawrence County EMS, and Lawrence County EMA. Due to the large amount of possible victims, additional resources including Swift Water Rescue Teams from Maury County Fire, SpringHill Fire , Killen Fire, and Florence Fire were requested to the scene as well as the
The Helicopter Aquatic Rescue Team (TN-HART.) During the response our teams encountered multiple areas where the roadways were blocked by downed trees, and high water which delayed our response. First arriving units from the Lawrenceburg/Lawrence County Swift Water Rescue Strike Team quickly located the missing kayakers near the Barney Hole at Hardin Loop where the kayakers were able to make it to a gravel bar. Responders assisted in evacuating the kayakers back to the UPA Creek and Canoe Rentals. Other members of the water team deployed boats, and searched the waterway for additional victims. All other incoming rescue units were cancelled after it was confirmed that all of the kayakers were accounted for. Fortunately no one was injured as a result of the incident. We would like to say a special thank you to every agency who assisted, including Giles County Fire Rescue, Leoma Fire, and Gandy Fire Departments who backfilled for the agencies responding with the water rescue strike team. We are also thankful for the quick thinking, and early notification of the situation by the staff at UPA Creek and Canoe Rentals. The staff at UPA did a great job documenting how many customers they had on the water, as well as the names of the customers.