Thursday, July 5, 2018
Residents evacuated, fire extinguished at B & K Apartments

from the Lawrenceburg Fire Department

Just before 1:30 this afternoon, members of the Lawrenceburg Fire Department were dispatched to B & K Apartments at 829 North Mahr Avenue for a reported apartment complex fire in the H Building.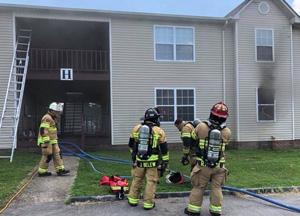 First arriving units found heavy smoke, and flames. Personnel assisted in evacuating residents of adjacent apartments. Fire crews were able to quickly extinguish the fire, and contain the damage to the apartment of origin.
Units from New Prospect Fire Department, Lawrence County EMS, and Lawrenceburg Police Department also responded to the incident.

Fire Crews did remain on scene to monitor air quality, and provide ventilation for the neighboring apartments. Of the 8 units in the actual fire building, only one resident was displaced as a result of the fire. There were no injuries reported.