Wednesday, July 4, 2018
30+ year old Georgia murder case culminates with arrest in Lawrenceburg

Lawrenceburg Now

A murder case under investigation by officials in Georgia for more than thirty years culminated with the arrest of the suspect in Lawrenceburg on Monday. Officials indicate that Jay Thomas Burlison, now age 75, was arrested at a relative's Byrd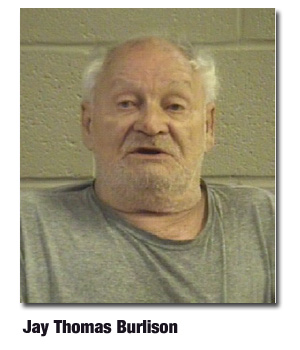 Road home.

Burlison had been wanted on charges of murder and aggravated assault in connection with a shooting incident that occurred on November 12, 2984 at the Golden Gallon store in Whitfield County, Georgia. Burlison is accused of shooting his estranged wife, fatally shooting the man she had been dating, and then attempting to shoot a store clerk.

Burlison's then-wife Mary Burlison gave a statement to investigators at that time. She said she and Earnest Griffin, age 44, walked out of the store where she was employed just after midnight and went to their cars. She told investigators that as Griffin was getting into his vehicle Burlison pulled behind him, exited his vehicle, and shot him.
She said she ran to her vehicle and that Burlison shot her through her window. She fled into the store, but Burlison chased her and hit her with his gun. He then pointed the gun at the clerk and tried to shoot him, but the gun just "clicked." He ran out of the store and disappeared.

Authorities were unable to locate Burlison until someone made application for his Social Security benefits. They were notified of his whereabouts in March.

Following his arrest Monday, Burlison was transported to the Whitfied County, Georgia Jail. He was incarcerated without bond on charges that include one count of murder and two counts of aggravated assault with a gun.