Saturday, June 23, 2018
Storms cause damage across southern Lawrence County
Lawrenceburg/Lawrence County EMA
A line of severe thunderstorms downed numerous large trees and disrupted power in the southern half of Lawrence County on Saturday morning (June 23, 2018).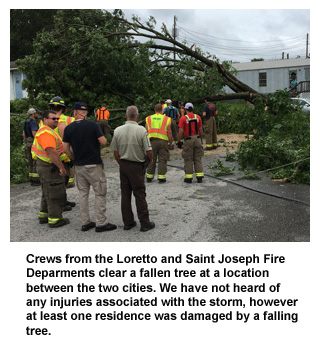 Personnel from local fire departments and other agencies spent most of the afternoon clearing roads, restoring power, and assisting residents who were affected by the storm.
The most severe damage was observed along a line extending from north of Saint Joseph, crossing US-43 south of Loretto and extending to a point near the Center Point community.
Representatives from the National Weather Service surveyed the damage which they believe was caused by winds in excess of 80 miles per hour.
Preliminary indications are that this was a straight line winds event, however that will not become official until an analysis of doppler radar data can be completed.
Agencies responding included Loretto Fire and Police, Saint Joseph Fire, Iron City Fire, Center Point Fire, Southeast Fire, New Prospect Fire, Leoma Fire, Lawrenceburg Fire, Lawrenceburg Utility Systems, and Lawrenceburg/Lawrence County EMA.