AUCTIONS
APPLIANCE REPAIR
Kelly Appliance & Vacuum 931-244-7200
AIR CONDITIONING
D.E. Hill & Son 762-9584
ASSISTED LIVING
AUTO REPAIR


J & G Tire Center 931-762-0078
BANKS
CONSIGNMENT
On Second Thought Consignment 931-244-7244
CINEMAS
CLINICS
Clothing
On Second Thought Consignment 931-244-7244
COMPUTER REPAIR
DAY SPA
Envy Tanning & Spa 931-762-3689

ELECTRICAL & PLUMBING
Rick's Electrical & Plumbing 931-242-5325
ELECTRONICS
Lynn Electronics 762-0401
EXCAVATING / GRADING
Newton Backhoe Service 931-242-0305
FLORIST

Lawrenceburg Florist 762-3722
McKelvey's Flowers 762-4511

FUNERAL HOMES

Pettus-Turnbo Funeral Home 762-3291
FURNITURE
Green's Furniture
Swap & Shop Center
GIFTS
GLASS REPAIR
Lawrenceburg Glass 766-1004
HARDWARE
HEALTH PRODUCTS
Salt Glow 931-279-4780
HOBBY
INSURANCE
Aarons Insurance 931-629-8065
Baker Agency 762-4550
Wall-Modrall Insurance 762-6528
JEWELRY
Dixon's Fine Jewelry 762-9979
LAWN CARE


Dustin's Lawn Care 242-4414
MEDICAL
NATURAL FOODSNature's Nuggests 762-2895
OUTDOOR
Randy's Cycle & ATV 762-2450
PARTY / SUPPLIES
PAWN
Mo's Pawn Shop 762-2529
PHARMACY
Holland's Pharmacy 931-762-2220
POOLS/ SUPPLIES
By Pass Pools 931-762-7904

REAL ESTATE
RENTAL
RESTAURANTS
SPORTING GOODS
Fox Sporting Goods 931-766-0313


TANNING
Envy Tanning & Spa
931-762-3689
TIRES
Groucho's Tires 931-762-1707
TRAVEL
Wednesday, June 21, 2017
30th Anniversary at Ethridge School
On May 17th, Ethridge School students celebrated a thirty year tradition of reading.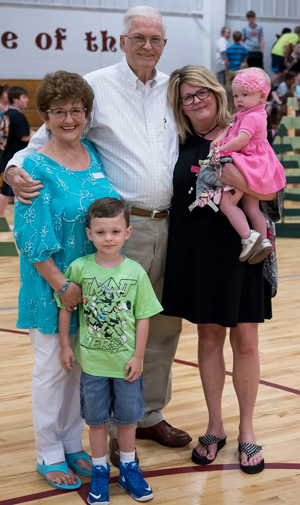 John and Rebekah Sharp were honored for Sharp Transport's thirty year sponsorship of the school's reading program.
Other guests included C. J. Kersey who was the first winner of the Most Distinguished Reader Award in 1987.
John and Rebekah Sharp, daughter Angie, great grandchildren Braxton and Annie Beth.
Ethridge School Student Reading Awards. "Principal's Award"---Atley Thornton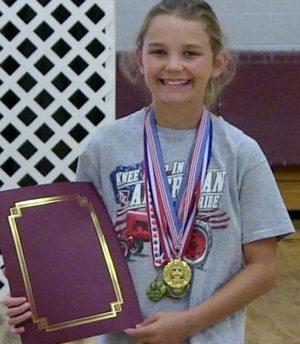 "Top 12 Most Distinguished Readers" The Top 12 "Most Distinguished Readers": Front row: Evett Whittle, Shianne Odom Second row: Matthew Shirley, Jeff Norwood, Kyndell Garrison, Alyssa Dollar, Jodyn Southern, Jaxson Pugh, Cade Brown, Bailey Stuckey, Jaden Harris, Mason Siniard.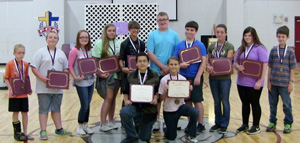 "200 Points" Lily Hutchens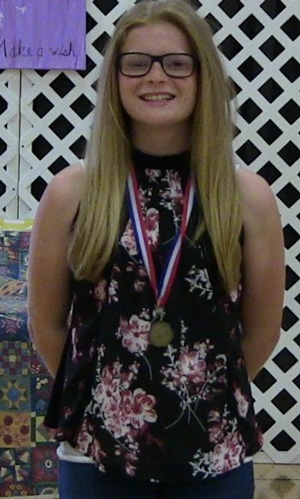 "Read 50/50 Balance of Fiction and Nonfiction" Students reading a balance of 50% fiction and 50% nonfiction: Front Row: McKenzie Perry, Trig Littrell, Cailyn Hodge, Caleb Hanes, Rob Fisher, Max Reimer Back row: Jayson Corbin, Matthew Luffman, Chanee Williams, Chance White, Weston Beck, Aidan Joyner, Cainaan Klinghard.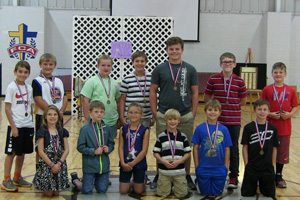 "Highest Percentage of Correct Answers on Reading Quizzes" Students with the highest percentage of correct answers on reading quizzes: First row: Annsley Brashier, Holden Ogg, Annaliese Kephart Back row: Hunter Gallaher, Brayden Keeton, Garryck Paley, Cambree Williams, Eli White, Hayden Freemon, Samantha Stanfill.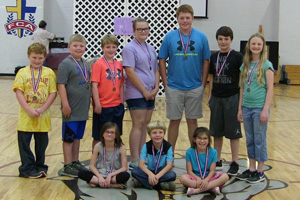 "Most Vocabulary Words Learned" Students with the most vocabulary words learned: First row: Dierks Boyd, Casen Stewart, Rowan Brian, Cailyn Hodge, Matthew Shirley Back row: Daysha Flippo, Brayden Keeton, Matthew Fitzgerald, Grant Miller, Bailey Stuckey, Weston Brewer, Josie Pilkinton.