Wednesday, June 20, 2018
A fact-finding field trip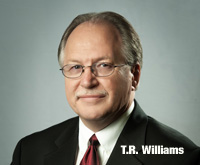 When the "new" jail opened in 2007 and increased inmate capacity to 261, no one thought we would have an overcrowding issue just ten years later. Unfortunately, the population has hovered at or slightly above its recommended capacity for many months now.

Are we experiencing a crime wave? No. Our jail is full because more people have substance use disorders and keep returning on related charges: bad check writing, child neglect, assault, theft . . . the list goes on. Lawrence County's recidivism rate (the rate at which offenders commit other crimes after being released from incarceration) is an incredible 96.3%.

The answer is to help people overcome substance use disorders, reclaim their lives and restore their families. It is a complicated issue that has to be addressed on many fronts, and our new Recovery Court is one piece of the puzzle.
Another is the Lawrence County Health Department's Neonatal Abstinence program. Once a month, Health Department educators visit the jail and talk to female inmates about the dangers of using drugs, including opioids, tobacco and alcohol during pregnancy.

Although other public and private agencies are here to help, Health Department Director Devin Toms realized that Lawrence County lacks much-needed services for people with substance use disorders. Her research into recovery support programs that work led her to Recovery Point West Virginia, and a field trip to investigate their success.

Two weeks ago, ten of us made a whirlwind tour of Recovery Point facilities in Huntington and Charleston, West Virginia. We left very early one morning and returned the next night.

First United Methodist Church of Lawrenceburg graciously allowed us to take their bus, which was comfortable and spacious. We divided the fuel expenses between us, bought our own meals and paid for our own accommodations. No taxpayer money was spent on any part of the trip.

Accompanying me were State Representative Barry Doss; United Church pastor and 8Oaks founder David Morgan; Shelter, Inc. Director Sherri Hughes; Substance Abuse Coalition Director Jenny Golden; Health Department Director Devin Toms; School Counselor and Kid's Place Board member Lisa Ambrose; Kid's Place Director Brandi Burdette; LifeCares Director Christal Wise; and Jail Administrator Jamie Mahar.

At Huntington we visited a 100-bed men's facility and HER Place, a drop-in recovery coaching program and ten-bed recovery home for women. The next day we visited the Charleston facility for women, which offers 92 beds.

The people of West Virginia were ready for help. Huntington, home to the first Recovery Point facility, saw 152 overdose deaths in 2017, ten times the national average. It is also the setting for the Netflix documentary Heroin(e), which focuses on the success of the city's Recovery Court program. I encourage you to watch it.
Recovery Point offers services at no cost to its clients. It is funded through state, corporate and foundation grants; individual and corporate donations; and community programs that have helped with facility renovations and development. We are doubling our efforts to find grants that will meet our needs.

Based on the 12 Steps, Recovery Point programs hold clients accountable to their peers if rules are broken. The shortest completion time is nine months, because any "incident" adds days to a client's stay. During our visit we were allowed to sit in on a Community Meeting, a peer-led recovery group that helps clients learn more about themselves.

All Recovery Point facilities have long waiting lists because their program works better than most: 68% of graduates maintain sobriety at least one year following program completion. Fifty-nine percent remain in recovery. Program graduates see a 90 percent reduction in reliance on social assistance programs.

Having seen a program that works, we have a clearer idea about the direction we need to go in Lawrence County, and the steps we need to take to get there. I am extremely encouraged by the partnership represented by those who traveled to West Virginia. Stay tuned for information about where we go from here.