Friday, June 1, 2018
Lawrence County Sheriff's Department assist Lauderdale County in locating a suspect
Press release
On Thursday, May 31, 2018, Investigators with the Lawrence County Sheriff's Department assisted Investigators with the Lauderdale County, AL, Sheriff's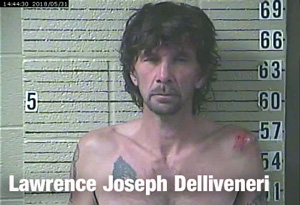 Department in locating a suspect in a recent boat theft which occurred in their jurisdiction.
Investigators made contact with the suspect, Lawrence (Larry) Joseph Dellineveri (49) of Lawrenceburg, TN, in the area of Robbins Street.
While Investigators spoke with Dellineveri, he tried to get rid of a container which contained illegal drugs.
Investigators attempted to retrieve the container and Dellineveri resisted, biting one investigator. Dellineveri was able to get the drugs to his mouth where he consumed them orally.
Dellineveri continued to resist arrest and fought with Investigators until back up units with the City of Lawrenceburg responded. Dellineveri was taken into custody at this point and charged with Assault (Police Officer), simple possession of marijuana, possession of drug paraphernalia, tampering with evidence, resisting arrest, and evading arrest.
Lawrence Dellineveri is being held at the Lawrence County Detention Center under a $6,000.00 bond. The investigation into the stolen boat from Lauderdale County is ongoing.
Anyone with any information concerning drugs or any other illegal activity is encouraged to contact the Lawrence County Sheriff's Department 931-762-3626 or the Criminal Investigation Division 931-762-1608. Tips may also be reported online confidentially by visiting our department's Facebook page and sending a message.