Wednesday, May 16, 2018
LCHS Shooting Team competes in Christiana
The LCHS Shooting Team competed at Big Springs Shooting Complex in Christiana, Tennessee on May 12, participating in the Tennessee Scholastic Clay Target Program's trap shoot.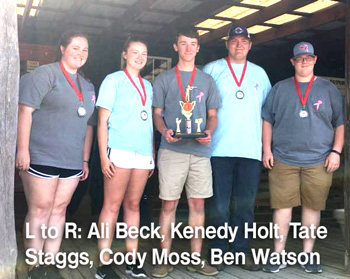 The Wildcats Varsity team won 2nd overall with a 459 targets out of a possible 500.

Coffee County edged out LCHS for the win with a 475.
The individual scores were led by Cody Mossy 96, Tate Staggs 95, Ali Beck 95, Ben Watson 90, and Kenedy Holt 83.

Moss had two 25 straights without a missed target, followed by Tate Staggs, Ali Beck and Kenedy Holt all with 25 straights.
The entire LCHS team, and many family and spectators, wore T-shirts during the competition honoring Donna Thomas and her battle with cancer.
LCHS has two remaining meets, June 2nd is Tennessee Regional and June 22-23rd will be Tennessee State Shoot, both at the Nashville Gun Club.
This year's LCHS Shooting Team is coached by Greg Holt (Head Coach), Shawn Walters, and Timmy Staggs.